2002 Oklahoma Campout - Talimena State Park
As I have stated in previous articles, I'm not a high miler biker like Ken Hand or John Boettcher or Frank Wedge, as I tend to stay within 500 miles of my home in northeast Louisiana. And I don't need a large fuel tank like Frank's or a fuel cell like Ken's because I generally don't go very far before stopping to check on something I may find interesting along the way; be it a nice mom and pop cafë, a junk/antique shop, or motorcycle junkyard.
I have always been interested in attending the campout since I bought my new 1998 EV in the fall of that year. So this year I decided that I'm gonna do it. The weather forecast looked promising for the weekend so I left work early in Mississippi Thursday evening and made the two-hour drive west on I-20 to Rayville, Louisiana, my hometown, where the EV sleeps inside the garage during the week. I left at about 9 o'clock the next morning, Oklahoma bound.
First planned stop was Shreveport where I had spent 14 months as an engineer's representative on a large casino project. Wanted to check the pulse of the casino to see how business was. The site was quite a transformation from a garbage dump within a rundown warehouse district. Hollywood Casino and all of the other casinos lining the Red River sure helped change the skyline of 'ol Shreveport for sure. By the way, the casino was doing fine, but without my help. I'll let the Texas crowd do that.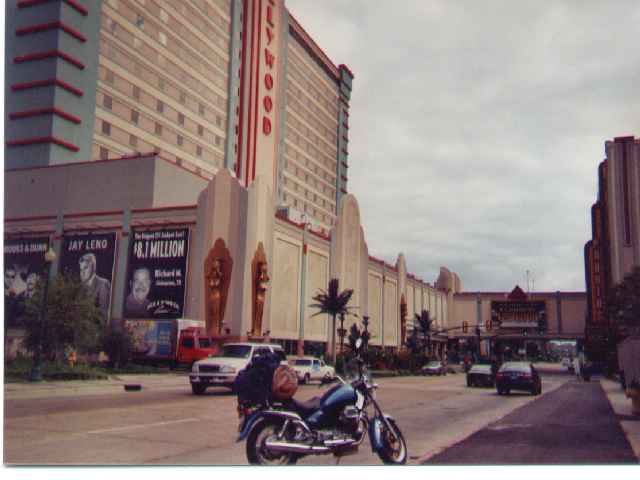 Traveling north of Shreveport on Louisiana 1 to Blanchard, I turned westward toward the Texas border, connecting with FM 1999 and passing through the small towns of Karnack and Uncertain, Texas to the entrance of Caddo Lake State Park. I wanted to ride through to check out the park's camping areas, beautiful place to have a motorcycle campout or just to visit for a day. The bayou and lake are lined with old growth cypress trees looking like there could be schools of bass or brim under every one. Maybe I'll be able to come back soon with my fly rod and popping bugs to drag a few of 'em out. If you are ever in the area be sure to stop by. They have cabins, boats, and fishing gear for rent. Just show up with your credit card.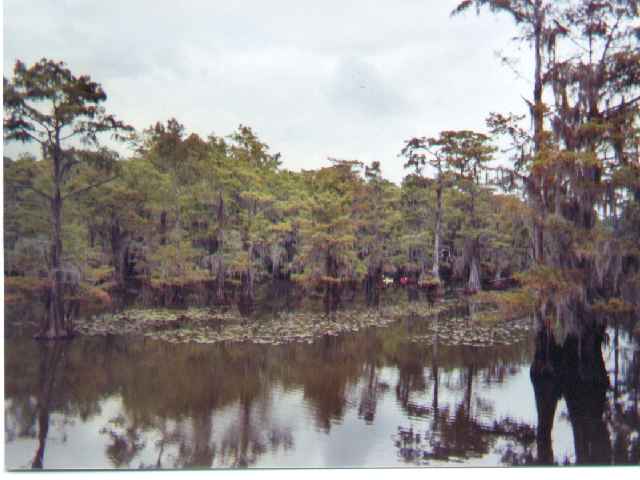 Next stop was Jefferson, Texas, located about a half-hour's ride to the northwest from the Park. Jefferson was originally an old steamboat landing on the Caddo River before, during, and just after the Civil War. That is, until the Texas and Pacific Railroad came through. Most of the old steamer's outbound cargo included bails of cotton with inbound freight billed as building materials and consumer items of the day. Jefferson (population about 3500) has recently become a booming tourist town with antique dealers and restaurants occupying what were feed and seed, general merchandise, and drug stores a few years ago. The main area encompasses about a 4 by 6 city block part of old downtown. Several B&Bs have sprung up in the area also. It's a great place for a day trip or to stay overnight for a weekend visit.
On the north end of downtown is a narrow gauge railroad that makes about a mile loop through the woods and skirts the riverbank. I stopped and talked to the conductor for awhile. He and two others had bought the railroad last year and were trying to improve on the rolling stock and other equipment for the next spring's tourist season. I would have liked to have stayed and help for a couple of hours, but had promised my cousins in Bogata, Texas, that I would be there at about 6:00 P.M. for supper. I'll be back next spring to "play" with the railroad.
From Jefferson, Highway 49 winds northeast through several small Texas hill country towns to Mount Pleasant, and then another 25 miles on U.S. 271 brings me to Bogata. The speed limits on some of these two lane, back roads are posted at 70 mph! Much too fast for me; blind curves and driveway access every few hundred feet with an awful lot of skid marks all over the blacktop roads. It made me nervous. Deer country too! I made the supper date just on time though. Enjoyed the visit with my cousins, the Marris' in their beautiful home in the country and their hospitality of an overnight stay in their guestroom.
The next morning I left their home about 8 o'clock after having enjoyed a great breakfast and a morning visit. The temps were in the mid 50's and the sky was heavily overcast with a slight wind from the northeast. It looked like rain at any time. Not exactly the kind of weather that the Intellicast Internet weather site had forecast for this Saturday. Oh well, it was time to roll on, stuff to see.
Riding carefully down their graveled driveway and then onto the one land farm road that meandered through the hay fields; within a few miles, I was back on U.S. 271 heading northwest to Paris, Texas.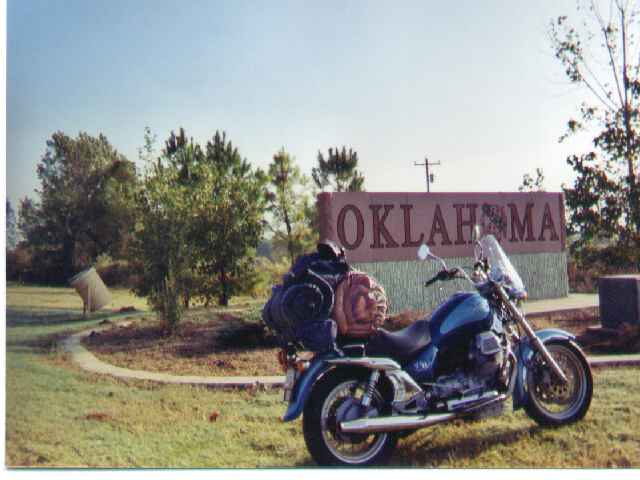 Between Paris and Hugo, I crossed over the Red River into Oklahoma. It was somewhere in this area that I had my first summer job away from home. I think I was a junior in high school at the time. I had a one room garage apartment just a few blocks west of downtown Paris, thought I was special. I had the freedom from home, but a nasty job for sure. I operated a bulldozer pushing up brush into burning heaps. One of the heavy equipment operators was a big black man running one of the larger clearing dozers. One day he backed his machine up next to mine, looked me over and said; "you black as I is". We both had a good laugh.
I stopped in downtown Hugo to visit the railroad museum located in the original passenger/freight station for the town. It's a very interesting building complete with the original Harvey House Hotel and Restaurant. It's certainly worth the stop, at least for railroad buffs like me. It holds a lot of artifacts of general interest from southeast Oklahoma area also. I give it an AAA rating.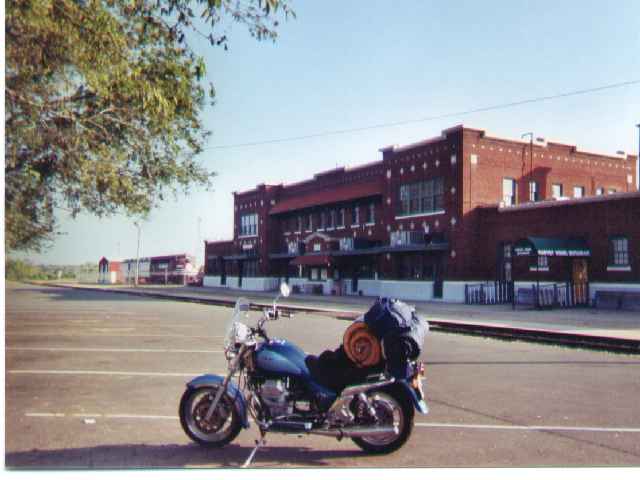 From Hugo, I had a choice of two routes to the Talimena State Park: up the Indian Nation Turnpike or continue on U.S. 271 to Antiers. I chose the highway thinking it would be practically deserted. It wasn't. But past Antiers the traffic thinned out and I was able to step up the speed somewhat. I was getting anxious to get to the campground to see who was there and what the campout was all about.
The highway ran along a northeast route through a valley west of the Kiamichi Mountains. The sky was beginning to clear of the overcast cloudiness and the wind had died down. The clouds seemed to retreat to just touching the higher elevations as they went and it was warming up also. It turned out to be a great day to ride and explore.
The small town of Talihina, located about six miles west of the State Park was crowded with motorcycles and their riders, or at least it was crowded for a small town. Most of these were Harley riders, but I did see a few Guzzis and lots of Goldwings. I didn't stop, but continued on to the campground. I knew I would see the Guzzi guys later.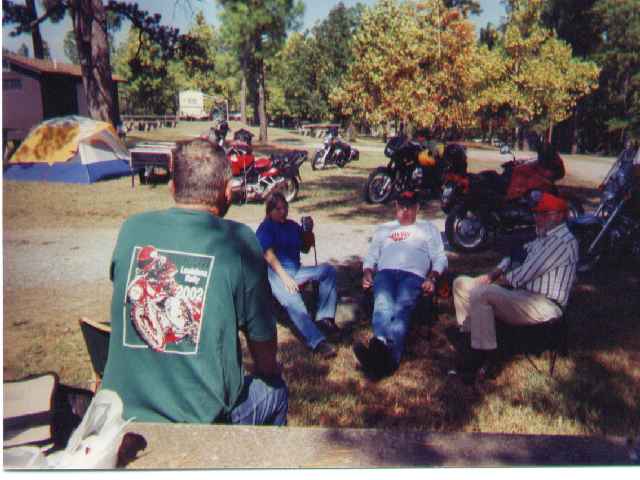 About a dozen or so riders had already set up their tents and pop up campers. Being relatively new to the Guzzi Clan, I didn't know but about half the bikers there. But with it being a small, friendly group, it didn't take long for introductions to take place. I met some folks that I have read about in the MGNOC newsletter or "met" on the Internet correspondence lists. One guy was limping around the campground with a slit cut in the knee of his jeans and showing off his knee bandage. I think he was trolling for sympathy - you know the kind. I believe the story was that his Guzzi and camping trailer did a donut in the parking lot and he went down. All okay though.
I rode back to the town of Talihina to grab a late lunch, stopping in a small mom and pop restaurant located on the eastern side of town. I went for the biggie burger and fries. There were quite a few bikers there, with one BMW rider making a comment that he had never seen so many Moto Guzzis in one place before. I guess more than two in one area IS a bunch and we had the Beemers outnumbered!
After lunch, I made the trip back toward the campground and up to the Visitor's center located at the intersection of U.S. 271 and Oklahoma 1. This is the west end point of the Talihina Trail, a two lane highway (Oklahoma 1) that follows the dips, turns and tops the ridges of the Winding Stair Mountains. Several pullovers along the way offer stunning vistas of the Ouachita National Forest below. Very serene. Very pretty.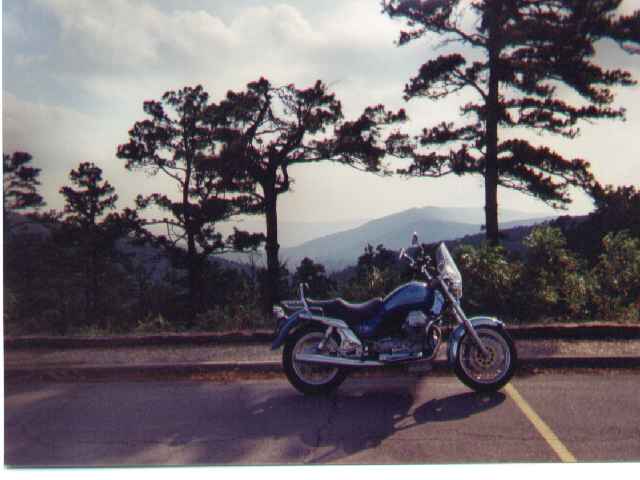 Continuing on east toward Mena, Arkansas, I met several groups of motorcyclists also enjoying the roads and views of the area. There were hand waves from almost all riders, even the Harley guys. Everyone was having fun. At the Emerald Vista recreation area, I headed south on U.S. 259 a few miles to Big Cedar, then west on Oklahoma 63 back to the campground via Talihina making a big loop of approximately sixty miles. Highway 63 offered a valley view of the hazy blue skyline of the mountain ridge tops that I had just traveled along.
Back at the campground, someone had mixed up an alcoholic concoction in a plastic gallon milk jug and was passing it around. After my third cup of the stuff, I decided I'd better quit because I wanted to be able to set up my tent and to remember what the campout was all about. It was pretty good though. I think that some of the guys may have had a long, looong ride back home the next day.
Shortly after I arrived, Ken Hand showed up. I guess he had just been riding around some Texas back road and decided to ride on up to make a cameo appearance. Konrad and Gary from the Dallas area soon followed. Chet (aboard his trusty Bassa, Rusty) along with Gary rode in from Kansas. They were fortunate to have a tail wind to help push them along.
Steve and Leila were busy warming up some chili and someone had brought a brisket that was cooked to perfection. Lots of chips and dips and belly wash were provided. I grazed around the table for awhile while engaging in some light conversation when my mouth wasn't full.
Later on that evening, a cold front came through with the clouds on the point wringing out their moisture as they fled over the mountaintops. We actually received very little rain at the campsite, but the temps began to drop rapidly. The wind was vicious all night long, rocking my tent with me inside wondering when the storm was going to hit. It never did.
Early the next morning, a few campers were already up, stirring around the campfire, drinking coffee. I packed my camping gear on my EV, drank a cup of coffee, said good-by, zipped up bags and jacket, headed east again along the Talimena Drive to Mena, Arkansas, point of the eastern terminus. I was planning to stop at the Queen Wilheimena State Park located about half way on the Drive for another cup of coffee, but the restaurant parking lot was full, so I continued on. High winds, relatively low temp, and overcast skies undoubtedly kept a lot of motorcyclists at home, but there were still a few out, like myself, fighting the winds on the hilltop road. They were probably heading home like myself.
At Mena, I took a short break while I gassed up the bike. I continued on Arkansas Highway 8 into Arkadelphia where I gassed up the Goose again. From Arkadelphia, I connected to Arkansas 7, traveling on down to El Dorado, then south on U.S. 167 to Ruston, Louisiana. From there, I rode east on I-20 back home to Rayville, arriving there after a six and a half-hour sprint from the campgrounds.
Many thanks to the Oklahoma rep, Ken Bunch, for taking the time and effort putting the campout together. Also the same goes to the Arkansas Reps, Steve and Leila Walker for their help and others for pitching in to make the event a success. I enjoyed the visit. See you next year.
Jack Green, MGNOC #17171 jgreen@bayou.com