Crawfish Run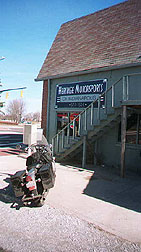 I had a seminar to go to in Indianapolis on vacuum heat treating furnaces for the company I work for that was on a Wednesday and Thursday. The weather was warmer than usual especially for February so I decided to take the following Friday off and ride the T-3. We had an hour lunch break on Wednesday so I shot over to Heritage Motorsports and met Craig Mayes, the vice president. He had several new Guzzis there along with some Ducatis, Triumphs and Laverdas. That evening I hit the Slippery Noodle, a blues club in one of the oldest buildings in Indy.
The seminar ended early on Thursday so I headed due south knowing a front was moving through some time that night. It was in the 70s and clear all the way to Meridian, Mississippi where I stayed the night.
The front moved through with rain that ended right when I was ready to leave Friday morning. One of the very few times the weather ever cooperated! It was cool in the 40s but still better than back home in northern Illinois. I called William Griffith, the Louisiana rep whom I never met and asked if I could stop by and say hi. He graciously said yes and gave me directions to his home in Farmerville, LA. I arrived about 1 o'clock and was welcome with the utmost in southern hospitality. I met his wife Yvonne and one of his sons, Duane. Duane owns Dixie Cycle, an aftermarket parts and accessories outlet. I also met the Guzzi family, there was quite a mix of bikes, one of William's favorites, his Ferrari red 84 Cal II, his mother's 75 T, Yvonne's import 91 Cal III with the big valve heads and 40mm carbs, Duane's black 96 1100 Sport, and a bunch of others.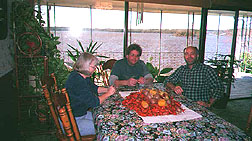 Yvonne served lunch, Louisiana style, dining room table with a two foot high pile of crawfish! Along with boiled potatoes and sweet corn. We feasted, talked motorcycles, shared stories and had a great time. Afterwards we played around with William's 73 Eldo that I would of bought in a heartbeat had it not already been promised to someone else.
It was getting late and about time for me to head out. William, Yvonne and Duane led me out to Gene's Moto Guzzi in Eldorado, AR. which was in the direction of where I was heading. Gene was showing off the new Bassa sitting on the showroom floor. Nice bike. We all talked for awhile and then I said my farewells to my new good friends and rode up to Little Rock for the night.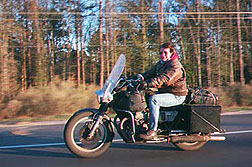 Saturday was nice again but pretty cool. It stayed in the 30's all day. Missouri RT 19 is a nice little strip of highway and well worth making a point of taking it some time. The Ozarks are always a treat. Lots of woods, curves, hills and rustic farms.
Pretty uneventful the rest of the way back. US 34 wasn't exciting compared to other highways but not bad for the flat lands of Illinois. Still beats a boring interstate.
All and all it was a great extended weekend. I really enjoyed the Griffith's hospitality and will definitely attend the Louisiana rally this May that they're hosting. I just hope the crawfish are in season!
John Boettcher
7513 Birch Dr.
Wonder Lake, IL 60097