Guzzis in Daytona 2000
I had been to Daytona for Bike Week two times previous to March, 2000, when Tip Paul, Pittsburgh Guzzi organizer extraordinaire, asked me if I would be interested in staying in a central location where, hopefully, we could convince other Guzzisti to stay and use as a base of operations. I said, "Sure", remembering the places I had stayed before at Daytona. The first time I went I paid through the nose to stay in a motel in Ormond Beach, which, while it was okay, placed us in the middle of the 95 percent or so of Daytona visitors who come to idle in traffic and blip their throttles at red lights. The second time I did no planning and stayed at Bulow in the "overflow" area, which by the third day was so dusty from all the four-wheelers cruising through that I had an unnatural urge to pack up all my belongings and head to the orange groves of California to seek work picking fruit.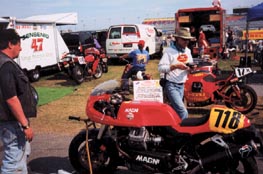 Tip had scouted out a nice smaller county campground near Debary, Florida. Granted, it was a bit of a ride to Daytona proper, but after a Tennessee winter, I didn't mind riding anywhere in 75 degree sunshine with a small flock of Guzzis. Debary is near Sanford, and Deland lies between Debary and Daytona. Since many of the events in which I was interested happened in Deland, it was fine with me. Plus, when I saw the campground, I was sure I had made the right choice.
Lake Monroe Park is on the north shore of Lake Monroe, and is a well maintained but little known, it seems, camping spot. All the sites are large, and all have electricity and water. The campsites Tip scouted out for the Guzzi folk were in the back of the park, so we had very little traffic. A canopy of live oaks shaded us, and scrub palmetto plants between the campsites gave a measure of privacy. The park's gates were locked at dusk, but the campers got the key, so there was none of the late-night cruising for campsites that made the mini Oakie dustbowl at Bulow. Joe Ortiz, our wonderful park supervisor, gave us a deal on some firewood, and warned us about the gators in the lake.
The Pittsburgh crew of Tip and Tommy Stricker were onsite when I arrived, and Tip welcomed me, as he did all the new arrivals, with a selection of fresh Florida citrus. At least my body would get some nourishment besides hops and barley. Later, I was to discover that Tip had brought his usual spread of healthy and tasty foods, and we indeed ate very well throughout the week. I admit I did trailer to Florida this year, because the weather in Tennessee was awful when I left, and I had brought my LeMans V with the intent to sell it if possible. I also brought along my old Triumph Tiger so I'd have a ride if I did sell the Guzzi. Some hardier Guzzisti did ride in, including Eppa Wimbish from Richmond, Virginia, Mike Reames from Reno, Nevada, Roy and Suzi Goyette (Amsoil LSR sponsors) from south Florida, and Catskill Hawk, a mountain of a man, given name unknown, from upstate New York, although I think he rode in from parts further south. Gabe Rudevisious and his wife, Sophe, along with their sweet Keeshound, Mishka, showed up also, but sadly, without Gabe's Falcone. Maybe next year, Gabe?
Trickling in over the course of the week were Virginia MGNOC Rep Ron Komoroski, Cliff Baggett, Chuck and Darcia Stottlemyer from Indy, North Carolina Rep Mark Tenney and his pal Rob McClelland from Chapel Hill, Tip and Tommy's giant friend Red Man Rising, all sour from Mardi Gras, Tip's squeeze Karen, and others I can't remember. Everyone loved the location.
A few Guzzisti who had stayed at Bulow came by to visit and were last seen kicking themselves in the backside for not staying at Lake Monroe Park. Granted, Bulow has its own appeal, and it can be a world unto itself, but Camp Carlo, as we came to call our little spot of Guzzi heaven, was just what the doctor (John?) ordered.
Tip immediately, well okay, later that day, set up his camp kitchen, and he and Tommy made us great breakfasts, real coffee, and delicious salads. We did most of our dinner time eating away from camp, but we did have one whopper of a spaghetti dinner one evening. I was born in Florida, and for me, Florida means one thing, and it's not hanging chads. When I am in Florida, I do seafood. We got a tip from a friend of Mark Tenney's who was racing a MuZ in the singles class. The tip was about a place called the Ormond Crab Shack. It was a shack, corrugated steel and just big enough to hold the steamers and broilers and four very harried order-takers, but the food was fantastic. I placed my order for stone crab claws and then went to the water's edge to pick out a table. Did I mention that all the seating was outside? While you were eating, beer was free. We all chowed down, those eating the stone crabs whacking away with silly little wooden mallets, watching a beautiful evening fall in Florida. Looking out over the inlet, you could almost forget the overdeveloped Hell that most of Florida has become.
Daytona always makes me want to clone myself so I can attend all the conflicting events happening the same day or evening 15 miles apart. We picked one or two things to do each day, and, depending on who else was at the camp, had decided to do the same thing, headed out to Deland or Daytona en masse and were gone all day. Eppa, Ron, and Cliff always seemed to be up and gone by the time I got motivated. I could never figure it out. We hit the AHRMA tech session, which was held at the AMI facility on Highway 92 just west of Daytona. All the beautiful vintage and not-so-vintage bikes were being scrutinized, and we saw several old friends from the Guzzi universe. Todd Ross, Guzzi/Aprilia dealer in Port St. Lucie, Florida, had his custom-framed Guzzi racer there, and Michael Long, new owner of Cycle Specialties in Athens, Georgia, was there helping tune a Ducati racer. Charlie Cole's beautiful green and silver round-head racer was there too. We drooled, talked, bought magazines, and took pictures in the wonderful sunshine. Everyone was happy; it was planet of the motorcycles.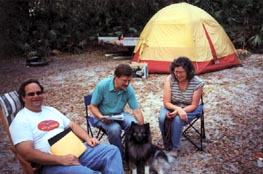 We had dinner at Otter's, near the Port of Sanford marina, and enjoyed a delicious meal with especially friendly service. We noticed that being far from the path beaten down by countless pairs of genuine Harley Davidson motorclothes boots had at least one advantage: no lines! Tip knew that not all Guzzisti come to Daytona solely for family fun, and had scouted out a perfect biker bar just down the road from the campground, the Lake Monroe Inn. It is actually three bars in one, and I am proud to have closed all three on one evening with Tip and Tommy. As if for our pleasure, a Pittsburgh bar band whose name escapes me was belting out some ballad about union labor and the Monongahela River as we walked into the place.
We visited Stetson University campus in Deland, where Jerry Wood's vintage auction and the vintage bike trade show and swap were held. We ran into Jack Arnold, MGNOC Ohio rep, and actually managed to find a deal on Eldo footpeg rubbers before Jack did. He must be slipping. Sadly, Harper's didn't have their usual huge booth and display, but there were plenty of interesting goodies to fondle, and quite a few nice Guzzis lined up waiting for the auction, which always begins on the final Saturday afternoon of Bike Week and lasts late into the evening. The super-nice man running the university library allowed me to use an internet terminal to dash off a quick note to the Guzzi email list, telling them what they were missing in cold gray Tennessee, Wisconsin, or wherever.
We went to the Norton club's party at the track on Tuesday, I think, invited by MGNOC Georgia Rep Glenn Bewley of Atlanta, and had a great time, with free food, but Glenn was nowhere to be seen. We learned later he had had a spill on his 1100 Sport and was pretty banged up. We missed you man! By the end of the day, I think we had as many Guzzis in the parking area as Nortons. We ran into Biff and Cece on their SP1000 sidecar rig, and Mark Tenney and I made it four in a rig cruising the paddock. So much two-wheeled eye-candy to look at, and so little time. The Magni Guzzis were especially nice.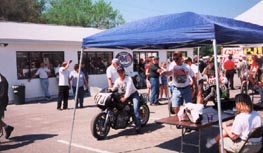 Monday night was the traditional Guzzi pizza dinner at Pantheon Pizza. It sure is great to have a whole parking lot full of Guzzis. Just don't forget to BYOB at Pantheon.
On Wednesday, or was it Thursday, local Guzzi guy, Jim Lucia, and Jim Sucharski had arranged a Guzzi ride heading out from Stetson University. We rode to Flagler Beach for lunch, via the Ocala National Forest, and for the first half of the ride I was being tortured. A LeMans V at 55 mph is not a fun thing. A pair of really old hand-shift Indians had come along, and the guys leading the ride didn't want to leave them in the dust. Unbeknownst to the leaders (and to me) the Indian riders found the back roads we were on too bumpy and had pulled off. We ate lunch at the Snack Jack on the beach, and because we were lucky enough to arrive before the lunch hour crowd, our Guzzis got pride of place in the parking lot. A film crew was shooting as we rode out, but I have no idea who they were or what they did with the footage. At lunch we decided that, since the Indians were no longer with us, we could "pick up the pace" a little on the second half of the ride. Any cruising 45-degree V-twins were fair game after that, and we passed all we came up behind.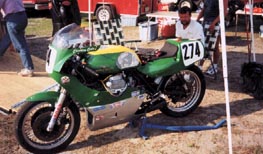 We rode to Daytona, specifically to Personal Cycle Service, where, sadly, very few if any, new Guzzis graced the showroom. A chance meeting at the Arai store led to a new Guzzi acquaintance, Stephen Lee of D.C., who took the auto train down. We walked around downtown a bit, and then headed back to Camp Carlo for an evening around the fire.
We hooked up with Louisiana's Guzzi Dave, fresh from Mardi Gras, and his entourage, who were camping at the track. They had ridden over, but were followed by two motor homes for creature comforts.
One evening Mark Tenney and I tried to make it to the flat track races, and we got there just as the last race started, so at least we got in free. I need to go back and spend some time at this event, because it was fascinating. These were purpose-built single-cylinder bikes and they flew, seemingly out of control 75 percent of the way around the track.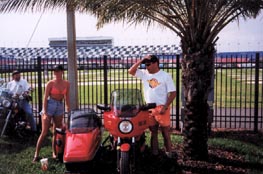 We attended the swap meet at Volusia County Fairgrounds, and wandered around and looked at the homophobic T-shirts and misogynistic stickers for sale. I always find something here that's a good deal, but I can't remember what it was this year. There actually were a couple of the roughest, most corroded Guzzis for sale, but they were no deal and would be good only for parts, and very few decent ones at that.
We had planned a Guzzi dinner at Julian's in Ormond Beach, and ended up pushing several long tables together and we still had people sitting off to the side at another table. I love the 60s time capsule that is Julian's, complete general faded Tiki décor and an ancient organ player up above and behind the semicircular bar. We got great service, and the food was good, and because it was Mark Tenney's and Tip Paul's birthday, we had the requisite sing-along and cake. Little did the staff know that they were spoiling our birthday boys' appetites for the cake Tip's girlfriend Karen had secretly ordered. After dinner at Julian's, we took the obligatory ride down Main Street. You have to do it once (and only once) during Bike Week.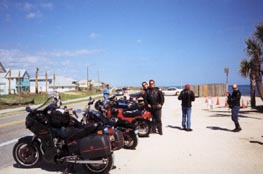 Friday evening we went to the Italian bike night at Stavros Pizza, and then walked to the Ducati night across the bridge at City Island. I love all Italian machines, but how many red 996s can you look at? Grown men stood in line to get the autographs of the Ducati factory racers, except one young racer who had no one in his line. Almost out of pity, Karen went and asked for his autograph. As he signed a poster for her, he asked, "Do you own a Ducati?" She replied no, to which he replied, "Well, then, how did you get invited?" This just wouldn't happen at a Guzzi function. We didn't stay long after that.
Coming back to Camp Carlo each night, we usually took 92 through Deland rather than the dull interstate. The long stretch of 92 between the speedway and Deland was our personal speed test area, and, if the conditions were good, we would usually exceed the speed limit in relative safety. In the evenings it was quite cool, and I would tuck down as well as I could behind the screen on the LeMans and listen to the 40mm Dellortos moan as the motor climbed up on the cam. I miss that bike! Up front the Mistral mufflers on Tip's Centauro bellowed away, our flock of Geese heading home.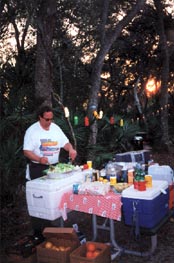 Coming home every night, just outside of Deland, we passed a "gentlemen's club" called Crazy Girls that featured a marquee extolling "nine beautiful women and one ugly one". Finally our curiosity got the better of us. All I can say is that they can't count in Florida. I guess everybody knows that now.
This short essay can't come close to completely listing all we did. Like I'd tell you! But soon enough my week was ended, and I split Saturday morning to give myself a cushion for decompressing once I got back to Knoxpatch. I am glad I did, because I had not one but two (count'em) flat tires on my trailer on the way back. Spare? We don't need no stinking spare! These were almost brand new, made in the USA radial trailer tires. Go figure. It wasn't enough to spoil my trip, and I now indeed have a spare. As I pulled out of Camp Carlo, after the Cajun yell, I learned from Guzzi Dave and repeated often during the course of the week, I told Tip and Tommy that 2000 was more fun by far than the other two times I had attended combined. Maybe 2001 can be even better, especially if I remember to bring socks. Roll on, March 2001.
All Guzzisti are welcome at the Lake Monroe Park and Campground. Hopefully, the MGNOC members will return to this camp for years to come, and it will become the center of the universe for Guzzisti at Bike Week. The MGNOC has reserved three campsites that will accommodate at least three tents each for 2001. Please consider joining your club members there. You can make arrangements directly with the park manager, Joe Ortiz, at Lake Monroe Park and Campground, 979 South Highway 17/92, Debary, Florida 32713-9740. Telephone: 407-668-3825. Be sure to tell'em you're with the Moto Guzzi group. If you're not sure of your plans, but think you might head down on short notice, let Tip know and we will hold some space open for you. For info or a brochure, contact West Pennsylvania MGNOC Rep, Tip Paul, whose info is on page 2 of the newsletter, under Staff.