Guzzis in Utopia - The 2003 Ontario Rally Report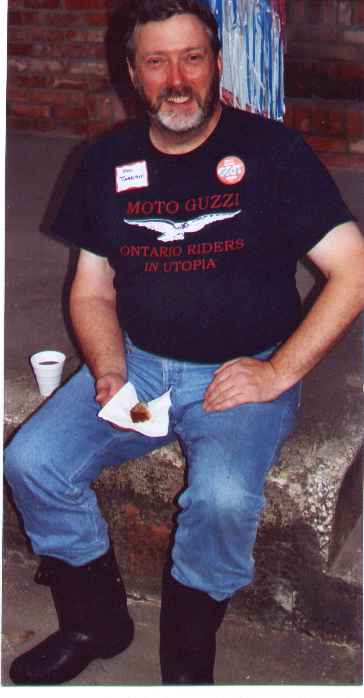 The 2003 Ontario Guzzi Riders rally was held this year on the last weekend in June, at a great new location on the banks of the Nottawasaga River, just outside the small town of Utopia, near Barrie, Ontario. The facility, Camp Saulaine, is run by the Latvian Church of Toronto (saulaine means "sunshine" in Latvian) and it has just about everything that the rally going motorcyclist could want. The main courtyard area of the camp is surrounded by buildings including the "Sun Barn", the dormitories, and the cooking and dining facilities. The Sun Barn has a bar, sauna, and washrooms underneath, and the sleeping accommodations consist of two wings of dormitory rooms sleeping a total of about 90 people, some self-contained "motel" type rooms, and six rooms that sleep up to 16 people in the house that contains full cooking/dining facilities. The buildings are surrounded by trees full of colorful woodpeckers and other birdlife and the rolling woodlands lead down to a beautiful grassy meadow beside the river, the whole facility covering about 250 acres. Check out http://www.ontarioguzziriders.com for more pictures and information, this place really is Utopia when it come to motorcycle rallies.
MGNOC lifetime member (#L-2) Larry Hogg had been bugging me for some time to check out this place. I resisted, mainly because of the cost, but once I gave in and saw the place, I realized the possibilities. We got a small group of people together and pitched the idea to them over breakfast one Sunday morning. As I had, they resisted the idea at first because of the cost, but once they saw the place, they also fell in love with it, and we decided to get a larger group of people together to share the cost. We also realized that it would take a lot of "pushing" to get the extra people required to recoup our costs, but with ten people helping and providing ideas, the work didn't seem so bad.
The weather in Ontario in June can be unpredictable, and for the past five years, it seems to have been the forecasts, rather than the actual weather, that have dictated the attendance at our rallies. Well, this year the forecasts were good for some time ahead of the event, although the odds on getting three good weekends in a row had me a little worried. My worry was unfounded as, apart from a short thunderstorm on the Thursday night the weather was great. Once again, Leon Karlak was the first to arrive on his trusty Eldorado and he, Klaus and Rose Schulz, and I, enjoyed a quiet evening before the crowds started arriving on the Friday.
The rally weekend was also a long holiday weekend for most people in Canada, as Tuesday was July 1st., our equivalent to the U.S. Independence Day. Unfortunately, everyone in Toronto heads north on long weekends and our rally site is not far from the main route, highway 400. Luckily, we had posted alternative routes on our website, and most people arrived without too many complaints and quickly got into the usual routine of greeting old friends and finding out what everybody had been doing since they were last together. A big cheer went up when the indomitable Arthur Seissinger skidded to a halt in front of the registration table. Arthur, from Germany, has been working in Jamestown, New York, for SKF bearings for a number of years and during these years he has traveled thousands of miles on his EV and made many friends in the U.S. and Canada. He is back in Germany now, but I'm sure we will all remember him for a longtime (and the huge bottle of Jack Daniels that came with him!).
The food for this rally was looked after by the very capable Myrna Jacques and her daughter Samantha, who are "Dinner on Time" catering and personal chef services. They provided a very tasty chili for Friday night with home-made fruit pies afterwards, a full breakfast on Saturday, a light lunch and "sautëed chicken breasts flamed with brandy and topped with a tarragon mushroom sauce" for Saturday dinner, followed by fresh strawberries Romanoff, would you believe! The only comment about the food that could possibly taken as a complaint, is that some people were too full to move afterwards! But, as someone else said, a full biker is a happy biker, and there were lots of happy bikers around this weekend. Someone suggested that we were not charging enough for the rally (all the food was included in the basic rally fee), but if stomachs are full and there is still something left in the pockets, that should make people even happier.
Friday and Saturday evenings were spent in the bar under the barn, listening to some good blues and watching motorcycle racing videos, or just sitting around the campfire telling stories. Everything was provided at the rally site and some people just hung out taking it easy, but others headed out Saturday morning for one of the two organized tours, or just to do their own thing. One tour went to the Creemore Springs brewery, whose slogan is "One hundred years behind the times", and it shows in their excellent beer where taste is the motivating force, not profit. The other tour went to the Big Chute Marine Railway, an alternative to locks, for getting boats over or around rapids. Some people just went exploring on their own, others went on a boat ride around Kempenfelt Bay on Lake Simcoe, not too far from the rally site.
After lunch on Saturday we had some field games where many people took this opportunity to make fools of themselves, but everybody had fun, whether it was participating or spectating. The usual favorites provided the fun, "Headspin", "Slow Race", "Ring Toss" and, of course "Bite the Weiner".
After the delicious chicken dinner on Saturday, the awards were handed out. Roy LeSage from Daytona Beach, Florida, took Long Distance Guy award with 1350 miles; Long Distance Gal was Angie Casey, from Attica, New York at 197 miles; and Long distance Two-Up was Dave Lyman and Theresa Spiros from Rochester New York, at 260 miles. People's choice went to Angie Casey for her beautiful '73 Eldorado. Someone at these events invariably has a story to tell of hardships or bad luck on their way to the rally, or at the rally. This year we had two flat tires at the rally and one broken clutch cable on the way to the rally, but the Best Hard Luck Story award went to someone who didn't actually complain about it at all. It seems that Dave Lyman told his new girlfriend, Theresa Spiros, that it was about a two hour ride to the rally. So she climbed on the back of his Honda CB600 F3 sportbike, and shared the sparse passenger accommodations with the bulging saddlebags, for something like ten hours, without a word of complaint. She got a big cheer when she came up for her well deserved award. After the awards was the great door prize giveaway, and most, if not all, went home with a prize. There was also a 50/50 drawing and a bottle raffle, which left a couple more people even happier.
Everybody left after breakfast on Sunday morning and I and the other organizers were left with praises ringing in our ears, along with promises to come back next year. So the rally will be in the same place on the last weekend in June next year with the same winning formula. We've already told Frank Wedge that the place would be great for the MGNOC National Rally, so come and check us out and get in on the fun in Ontario.
A big thank you must go to Larry and Catherine Hogg and the rest of the organizing team, Klaus and Rose Schulz, Elisabeth Joy, Martin Sanderse, Andrew Wanie, Andrew Kiwala, Peter Bazinet, Lionel Richer, and Jack and Carol Elliott.
Also, our sponsors must not go without a mention. Thanks go to Pat Doyle and Bavarian Motorsport, the local Guzzi dealer; Frank Wedge and the Moto Guzzi National Owners Club; Moto Guzzi North America; Cycle World; McBride Cycle; Bucky Bush, West Virginia MGNOC Rally; Jerry Meese Kentucky MGNOC Rally; Pro-Formance Cycle; Deliverance Cycle; Collins Motorcycle; Orillia Motor Sports Ltd.; Grand Prix Cycle; Warp 9 Sports; Barrie Harley Davidson; A.M.P.; Cycle & Sled Services; Four Sons Auto; Parry Automotive; R.J. Moto Sport; M.a.N. Service; Parkway Yamaha; and J & R Cycle.