If it's Tuesday, then it's Belgium
For the past ten years, there have always been two really nice Guzzi radunos (rallies) scheduled on the first weekend in September. One in southern Germany, near a tiny village called Siggen, and the second in Belgium hosted by the Belgium Moto Guzzi Club. "Lucky" Luc Van Vossel (who writes stories for this newsletter) is their club president and they enjoy a lot of Guzzi activities.
There were approximately ten more weeks of riding and then '98 riding season would be over. It was already mid August; the summer was slipping slowly into fall. Historically, my brother John, from Maine, visits us during this time and we hit the road on our Guzzis, taking in as many Guzzi activities as time permits. John's plan was to attend Siggen and then ride down to Italy and do some touring with Luigi, our MGNOC Italian correspondent. I wanted to attend Luc's raduno so John and I toured together, first, a little in France, and then some on the Mosel River in Germany, after which we returned to my place on the 2nd of September. Contrary to the nice New England summer weather in Maine, September in Europe can be very wet and cold, and this September started out in that dreaded rainy mode.
Although I've attended the majority of the Belgium rallies, it had been four years since the last one. Luc informed us that in 1997, they found a new rally site and it sounded really nice. This was going to be their 17th rally in perhaps their fifth location. I was looking forward to attending this year. I also knew that I would have to pay attention to an "odd feedback" I was noticing from my SP III.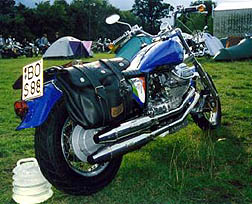 Around the end of July, I started to notice a strange sensation feeling, a kind of buzz vibration in my foot pegs and sometimes in the handlebars while riding at 4,000 RPM in fifth gear. Don't we all love it when we begin to think, "Is that my U-joint talking to me?" And then we thank "someone" for enabling us to recognize these early telltale signs. These vibrations were replaced sometimes with an "out of round - thumping feeling" sound. I really didn't think it was the U-joint because 20,000 kilometers ago, during the 70,000 kilometer maintenance inspection, both the U-joint and carrier bearing were in fine shape. I continued to accumulate lots more kilometers and the vibrations seemed to come and go. I checked the front wheel bearings, steering head bearings, both tires for roundness, uneven wear, but all looked quite normal. I asked a lot of questions and most of the answers were, "Take your U-joint out and look at it." I'm not very mechanically inclined so that option didn't really appeal to me. My German friend Otto, who is an expert with Moto Guzzis, explained how to check the U-joint for "play". I pulled the rear end, held the U-joint in place with a screwdriver and tried turning the drive-shaft. No play detected, so everything seemed normal to me.
John departed for Siggen on Thursday and, as planned, called me that night. The trip took eight hours, all in "heavy rain," with more torrential downpours in the forecast. I bid him a safe trip and continued wrapping all my things in plastic for additional protection. Givi bags are normally really good and don't leak, but why take a chance and possibly arrive with wet camping gear and clothes?
Friday, 4 September, 07.00 hours, finds me on the road headed toward Trier and the beautiful volcanic Eiffel section of Germany. Around 09.30 I cross into Belgium where the heavily wooded Ardennes region starts. I felt if I stared long enough into the deep forest, I might spot Fryer Tuck or Robin Hood fleeing between the trees. Just an absolutely beautiful area. Light rains and chilly temperatures best described the weather. The SP was running great and those strange vibrations seemed to have mellowed out over the country side.
Saint-Vith, a quaint, picturesque village popped into view and then shortly later Franchamps, the Belgium Formula One and world GP cycle race circuit. As you continue to twist through that area, you actually ride on part of the race track, and in one section, as you dive down a hill you shoot past the grandstands and some of the pit areas. Many years ago, on a previous trip, I started waving my left arm to the grandstands, imagining I was waving to thousands of cheering spectators. Of course the dismal stands were empty and cold, but I was having fun. Ten minutes after my waving scene we stopped for coffee. Peter Kimball, who was following me on his, "bad to the bone," 1980 red SP1000, was laughing so hard he could barely get his bike on its center stand. "What's up," I asked? He replied, "Didn't you see that old man sweeping the aisles in the stands waving back to you?" I then laughed myself and replied, "Sure I did Peter, and who do you think I was waving to?"
The Belgium Guzzi Club, webmaster, Patrick, emailed some directions on how to find the small town of Lommel. This was their second year in Lommel, located about one hour northeast of a much larger city called Brussels. I love riding in Belgium. The roads are, for the most part, well cared for and no one really gets too excited about speeding. The Belgian's are noted for their love of motor sports, and when you travel in Belgium you always see various types of sport-racing vehicles and exotic go-fast motorcycles.
One small problem I used to encounter is the spelling of the towns on the road signs. They appear in different languages: French, Flemish, and then sometimes a twist of both. I once mapped out a route taking me through Acchen, Germany, and on the way back, while in Belgium I saw only signs for Aken, nothing for Acchen, so consequently I missed my turn. Only small differences but if you don't know "bout dem" you end up stopping to check your maps a lot more often than planned.
Just outside of Lommel I stopped for a coffee. The rain had ended and I was getting anxious to arrive. As I was closing in on Lommel, I started picking up "arrow signs" for the rally. Fifty yards up on the right side, secured to a tree, was an arrow indicating a left turn. This particular road is lined with beautiful large trees and red brick homes. I gear down to 4th, 3rd, then 2nd and turn left as the arrow indicates. Whoa, I'm in someone's private driveway. I roll the SP back out, continue for another 50 yards and then see another arrow indicating a left turn. After continuing for a few more kilometers I arrive at the site. It (our Headquarters) was a very nice large cement building surrounded by a mowed field. Off to the left was another small field, and the entire area was outlined with plastic construction tape, allowing immediate visual recognition of our "Guzzi territory."
Lucky Luc appeared, welcomed me and explained some details relevant to this year's rally. Everything was to take place inside the Headquarters. It contained a commercial kitchen, showers, baths, smaller office rooms, stage and a very large auditorium type room. During the year other private clubs and sometimes the community rents the Headquarters for their own private functions. A really big bonus was its location, standing alone and far off the road, so we wouldn't be disturbing any neighbors. It was now 13.00 and I was 275 miles from home. First order of business was to select a location and pitch my tent. It was a short time later that I realized I had left my sleeping bag back in my garage. It looked like my bike cover would have a dual purpose.
At the beginning of the dirt road that leads into the rally site, you find the registration booth open, staffed by club members waiting to assist you. In my opinion, locating and having direct access immediately to the registration point is very important. They collect the rally fees, sell the pins and shirts, and furnish information applicable to the raduno. First impressions normally are the ones that stay with you and set the "stage and mood" for the weekend. Most of our European Guzzi radunos are international, meaning you could easily have Guzzi riders from a dozen countries represented, resulting in different languages, currencies, eating habits, etc., etc. A well prepared welcoming and registration area is vital.
Slowly and steadily the Guzzi's continued to roll in. By 20.00, 70 rider's had arrived. Inside our Hq's, the delicious Belgium beer was flowing. I counted not less then six varieties on tap. Many were enjoying the tasty stripes of beef, the hot French fries smothered in mayonnaise and the porridge with bread. Our ED (European Division of the MGNOC) members migrated to one large table where we proceeded to eat, drink, visit and have a blast. The band played righteous rock and soul, everyone was dancing, enjoying themselves.
Saturday morning brought warmer weather. I enjoyed a good night's sleep in a borrowed but warm sleeping bag. The local tour departed on time with maybe 40 riders and lasted two hours. One unfortunate Sport rider dropped his bike on some loose gravel, but thank the Lord, he was not hurt. Considering how my SP was still trying to tell me something, I opted to stay at the rally and not tour. Inside, a local Guzzi dealer displayed seven new Guzzis alongside other concessionaires selling clothing, riding accessories and tires. The new Guzzis included the California Special (low rider), a smart looking Quota 1100 ES, the beautiful 750 Nevada (not available in America), different colored EVs, a full race Daytona and a powerful looking Centauro Sport. You could sit on them all, get a good feeling for the controls and chat with the dealer. It was neat for sure.
Despite rain clouds and strong winds on Saturday afternoon, many day visitors were arriving. Dietmar from Germany, aboard his 850T, rode four hours to the meeting, visited for two more and then headed back home. Jean-Marc (often contributing to the EURO-MOTO and Guzzi correspondent email list) and his eight-year-old son, Kevin, rode up from Brussels on his black T-3. Kevin really enjoyed all the activities. There were many different looking custom Guzzis on site, including a really muscular looking Centauro sidecar outfit painted in silver-brandy. Unfortunately I didn't take any pictures of it. The winds were picking up and sporadic rain storms dumped lots of water on us. Guzzis continued to arrive, slowly filling the camping area. There were riders from Scotland, England, France, Holland, Germany, Italy, Switzerland, plus our host country of Belgian. The infamous Belgium Guzzi party had started for sure.
Another great band cranked up and the dancers were rocking the floor hard. At 21.00 the "official welcome" and evening program began. Long distance male went to an Italian Centauro rider from Trento who rode up just for the weekend, a tad over one thousand miles. Long distance female was shared by two ladies from our ED club: Sabina on her '84 LeMans III and Viola on her 350 Florida. Both traveled 405 miles. Our club won first place in the foreign club category for most club members (15). Luc joined us after his "officiating duties" were over and the party continued for another five hours or so.
A typical Sunday morning departure: enjoy some breakfast, extra coffee, thank your hosts and bid farewell to everyone. I was riding toward home with Sabina and Romolo, an Italian ED member on a T4. Normally we would do the winding roads most of the way, but due to the heavy rains, we decided the Autobahn would be the fastest and easiest. I'd lead as I knew the route and Romolo would bring up the back. We filled up with gas and started off, a bit uncertain how long the rains would last. After half an hour, the riding got nasty and the rain really started to dump on us. There was moderate traffic with limited visibility. I checked my mirrors often; yep, we were still all together, although during a few checks I had my doubts. Water started running down the inside of my Shoei RF-700 visor, and even though I had a quality rain suit on, I started to feel some dampness under my leathers. Then, if that wasn't enough, it seemed as if after every bump my bike would vibrate a little, as each time when the swingarm moved any real distance. My only thoughts were to keep going as I made mental notes of the strange, returning vibrations.
We crossed into Germany and continued to splash forward, slicing through the blinding mist and fog. Speeds were reduced to around 50 mph and shortly we pulled into a small rest stop. We all had frozen hands and experienced some leaking here and there. I asked Romolo to turn his headlight on bright as I believed up until then it was only on park. Sabina said her LeMans was running a little rough, maybe due to the water. After another hour we paused for coffee and gas at an Autobahn rest stop. I showed Romolo on his map where he would turn off ten miles later and how to get to his night's destination in Saarbruecken, Germany.
Sabina and I had some more coffee and then headed out. Her LeMans didn't want to run much faster then 40 mph until after running for 20 minutes. I could feel that there was definitely something big time wrong with my SP. It was vibrating like crazy at times, but knowing I would be home in another hour, I decided to continue riding and to keep it under 50 mph. At our autobahn junction, Sabina offered to follow me home, but I declined her offer. Just another seven miles and I would be there. Well, we split and I really went slowly. The vibrations in the handlebars were unbelievable. I had never experienced anything quite like this in my 300 and some odd thousand miles of Guzzi riding. Five miles from my place I'm creeping in third gear and my entire bike is jumping and shaking. Could it still be the vibrations from the Belgian band? "Please, just get me there. I'll fix you later," I whispered. Into my driveway, up with the garage door and up on the center stand. Thank you, good-bye and good night.
Two days later I'm describing the situation to Otto and he says, "Pull the swing and take out the U-joint. It must be shot." Well, OK. I really wasn't looking forward to doing this on my own, but I had no alternative. In my heart I knew the SP was "kaputt." The bottom of the rubber boot had completely melted from the excessive heat. I literally pull out the swing as best I could and some of the U-joint fell on the floor. I mean it was black and blue from the heat and obviously destroyed. I must have ridden the last few kilometers home with it in pieces. I gathered up all the pieces along with the swing arm and took everything to Otto's (65 miles away) for his help. Yep, it's broken for sure. He banged the other half out of the carrier bearing and replaced everything for me. I returned home and reinstalled it the next day. This was now my third U-joint! The first two lasted about 30,000 miles each.
A big thanks to Lucky Luc and his rally staff for hosting an excellent raduno. Fifteen of their club members worked really hard to insure its success. The attendees felt right at home and thoroughly enjoyed the outstanding Belgium hospitality. Official registered attendance was 107 Guzzis. For 1999, the Belgium raduno will be held 13 - 15 Aug, same location.
John enjoyed the Siggen raduno despite all the rain and flooded campground. His trip in Italy with Luigi was excellent. He returned to Germany on the 15th of September and flew back to Boston on the 18th. I have about 1000 miles on the new U-joint and all seems to be normal (whatever that translates to in Guzzi talk). So now I'm in the standby mode, waiting for the '99 Guzzi season to start. I wish you all many happy Guzzi times and enjoyable miles.