Journey to the U.S. with our Moto Guzzi, December 14, 1999
Hello to all who have been involved in our successful trip in USA!
To begin with, our trip was planned accidentally. I was browsing the Internet when I came to the MGNOC home page. I saw the Sunday breakfast, classified ads and the rallies for the summer. I told my wife Marit about what I had discovered and said it would be neat to go over there with our Mille GT and its bright yellow sidecar. Well anyway, time passed, I went to the shipping company and got a price, found out how long it would take to send the Guzzi, which day we had to send the motorcycle and when it would arrive. When we planned this trip our main intention was to attend the Wisconsin Moto Guzzi rally 6-8 August and the Sturgis rally on 13-15 August. We hoped to represent Guzzi in among all the Harleys. This didn't happen! The Guzzi arrived 12 days late!
Well the day of no return finally came and our Mille GT. was sent to the shipping company. Nor-cargo A/S was to handle our bike and get it safely to New York by July 29. When we planned our trip, Marit was supposed to leave for New York on the 26th of July just to make sure that the Guzzi didn't vanish in New York while it was waiting for us.
My vacation didn't start until August 2. If I was lucky I would get home from the rig (I work with Halliburton as a well tester offshore) earlier as I knew they wouldn't send me offshore for five to six days. I was sent offshore on Friday, July 23. I wasn't happy/ I knew I wouldn't be home until August 1st!
Anyway, problems occurred with the well and our crew was sent home on Sunday the 25th. Boy was I happy!
We had bought my wife's ticket about three weeks earlier, and I was going to use bonus points as a frequent flier. Monday the 26th came; we drove to the airport. I still had to get a ticket. I didn't get a seat on the same plane as Marit from Amsterdam to New Jersey. Due to computer problems at the airport we had to recheck our luggage at Amsterdam. Then we found out that Marit's plane was overbooked; my plane was to leave three hours later. I didn't like the idea of leaving my wife in Amsterdam alone (Her English isn't very good). To make things short, we went to the KLM ticket office and explained our problem, that we had two different flights (We blamed the PC problems in Norway.), and that her plane was overbooked. All of a sudden we had two tickets on the same plane, business class to Newark, New Jersey. Flying after this will never be the same.
We arrived in New Jersey at about 3:00 P.M. and the temperature was nice and warm, 37 degrees. This is about 15 degrees warmer than in Norway and we loved it!
Then we took the bus into New York's Port Authority Bus terminal and got tickets to Hacketstown, New Jersey. Here is where we were to spend the next 18 days although we didn't know this as the time.
On July 29th the boat hadn't yet arrived; it was coming "tomorrow" is what we were told. The 30th came, we were told the motorcycle wouldn't be ready until Wednesday, August 4th. Wednesday came and there was no motorcycle on board! Worst of all, nobody knew where it was! I was really unhappy! I gave the shipping company two hours to find out where it was. I also wanted to find out where it was just to make sure no one was pulling my leg. Two hours later the shipping company rep called and told me the motorcycle was in Halifax, Newfoundland . This was just a bunch of nonsense! I told him because Maersk Shipping (who owns the boat) reported that fact that it was on a railway car in Montreal, Canada when they discovered that the wrong container was unloaded at the wrong place. The bike wouldn't be back in New York until next Sunday and then would be unloaded on Wednesday of the following week. I couldn't do anything about it!
Hacketstown was a small place, and we got to know everyone at Goodland Country Club. We also became quite familiar with the town itself. At least we got a nice suntan those days we were there.
At last August 11th came and I confirmed the Guzzi was in Port Elizabeth, New Jersey! Some people we got to know well drove me to the Port to pick up the Guzzi and boy was it beautiful! Some paint had been scraped off, but that didn't matter at all. It was finally here in the United States of America! When I started it up, you should have seen the faces of the people who worked at the port. They have never before seen such a motorcycle. My smile went from ear to ear. Off I drove, back to Hacketstown to show Marit. I had only my helmet, pants, T-shirt and boots on when I drove the bike. It was too hot to have gloves and a coat on. In Norway it isn't often that one can ride without warm clothing.
Everyone at Goodland was amazed at the Guzzi. They hadn't seen such a machine before nor had they ever heard of a Moto Guzzi, except for the owner of the place. He was German.
Today was Wednesday and the time was about 2:00 P.M. We were off for a test ride into the town so Marit could drive the Guzzi. We were the happiest couple on earth at the moment with our Guzzi in the U.S. Later this same day we were invited out for dinner with some friends, and the next morning some other friends invited us up to their place for our final breakfast in New Jersey.
Off we went with our loaded Guzzi and its sidecar on our way to Washington state and Vancouver, B.C. Canada. We made many stops along the way. We drove to a small town outside Cleveland, Ohio and spent the night in our tent at a resort called Green Valley Country Club. These country clubs are really beautiful over here, and the atmosphere is very comfortable and relaxed. You don't have to worry about which dressing room you go into or what your swim suit looks like. We were all the same - naked.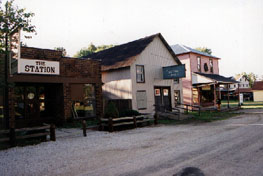 The next day (Friday) we asked to ourselves, "Are we on a vacation or a race to get to Sturgis before Sunday?" We were definitely on vacation so I looked at my list of rallies, and we headed on down to the one in Bridgeton, Indiana. We arrived Saturday afternoon after a few detours on gravel back roads in nice warm weather. It was really nice to arrive and meet what seemed to me to be friends I've known before. I guess all off us Guzzi people are like that. The people who come to Guzzi gatherings here are just the same kind of people who frequent rallies in Norway.
We weren't amazed by the high tech racers from Japan. I tell people if they want the world's best motorcycle, they have to get something from Japan, but if they want something with a soul of its own, it has to come from Mandello.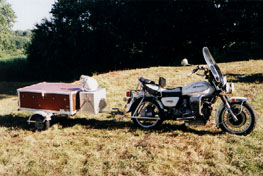 Marit and I enjoyed ourselves very much here. It was nice to see models other than the ones we have at home, especially the Guzzis with automatic transmissions. That is on my dream list: California II Convert or V1000 Convert with a sidecar. Many thanks to Gary for letting me try out his California II Convert. I fell in love with the bike at first sight. For those of you whom we met, we would love to take you on a guided tour of Norway and maybe to the North Cape. (If you bring your Guzzi with you.) In Norway we have lots of crooked roads.
Time flies when the night chatting goes on and on...the beers down the hatch. Then Sunday morning came, breakfast was served. I'm sorry to say that I don't remember the name of the guy who owned the blue California III with the sidecar who got up early in the morning to get warm, fresh doughnuts and other rolls. We don't get the like here in Norway. Thanks to you all at the Indiana gathering. Liz and her husband took us over the back roads to Decatur, Illinois to "Mom and Dad's" (Dee Dee's) place. From here we were on our own again. Liz and company guided us to Springfield, and we went on up to Erie.
So far the Guzzi was running perfectly, and we were hoping that the list of members and Guzzi shops wouldn't be needed. Our Guzzi has a 14-inch rear wheel so the tachometer was pointing at 13:00 hours most of the time. Also, it didn't like the gas, only 93 octane in the U.S., but in Norway it uses 98 octane. [Ed Note: In Kansas 91 octane is the best we can buy. In some states I've found only 89 or 90 octane. -FW]
We drove all the way up to Erie, Illinois and spent the night at Blue Lake Country Club. Here we had a room with a private shower instead of a primitive tent. Price was $20. Not bad. On Monday we heard a funny noise from something on the bike. We could not find anything wrong so we were on our way to Iowa. After a couple hours on the road we changed drivers. Marit and I take turns driving. Then the noise was back again and it didn't go away. Finally I found the problem. The right front bearing was squeaking badly; we had to fix it before we continued. Out with the list of dealers to see if one is nearby. Ned's Auto and Cycle saved our day! Only 40 miles away. Ned was contacted by phone and told us how to get there. The Guzzi was crying out loud so we had to take the back roads. One and one half hours later we were at Ned's Auto and Cycle. He and his merry men fixed the Mille GT in a jiffy and told us about a Norwegian settlement in Decora, Iowa. We headed that way but first went to Norway, Iowa. This town had a beautiful sign that says "Welcome to Norway." We thought this was neat. There was only a pub and a gas station, all that Norwegians need! We weren't there for long when we headed towards Cedar Falls and spent the night at a state recreation area in our tent.
Next day we drove to Decora through Amish country. We were amazed! I asked Marit, "Are we in the 18th century?" I don't think these people know there is something called an automobile! Anyway, we got to Decora and had lunch in a Norwegian restaurant. This was good! However the waitress didn't even speak Norsk!
After a few hours we drove onto Lanesborro, Minnesota. This was a beautiful town. We were told that the only thing that had changed since the 1800s is the inhabitants now have cars and the roads are paved! We spent the night here at a state recreational area right in the middle of the town. After pitching our tent we walked to town with our laundry. While our clothes were being washed we found a wine store. Out in front a guy was playing nice blues on his guitar. We went inside and bought a bottle of wine and a couple of glasses. The guy playing the guitar ran the store. We took our wine and glasses and listened to him play while waiting for the laundry. He also had Norwegian blood in him.
After Lanesborro we left for South Dakota. Arriving outside Sioux Falls at a state recreational area, we pitched our tent. The following day we were on our way to the Badlands in South Dakota. This National park was really a sight and the landscape through South Dakota was certainly unique, but flat and warm, and we aren't used to this .
It is very hard to take good pictures that do justice to the beauty of the landscape. You need to see it with your own eyes.
After driving through the Badlands we drove to Wall and put up the tent, walked to town and wasted some of our money.
When we bought souvenirs we had to buy the smallest version, otherwise we would have to leave it. I regret that I didn't buy the Longhorn horns to put on the front of the bike; that would be neat on the Guzzi when we attend the spring rally in Norway. Anyway, we can't have it all! At least we have stickers from all of the states we drove through. Wall Drug has it all.
Off we go to Mount Rushmore. I had to see what I didn't see when I used to live in Washington. After Mount Rushmore we drove to Sturgis. It is now a ghost town with two stands selling leftover T-shirts, three for $20. We had to buy them just to prove we had been there. We don't have to tell everyone we were there a week late!
Marit has now learned a new time calculation over here, one hour in Norway = 12 hours here in the States. The distances are vast. We have said to ourselves, after we came home and digested the impressions and experiences, "We'll be back!"
We drove on to Wyoming and wanted to see the Tetons and Yellowstone National Park, but we didn't have the time. As you know we started 12 days late. We ended up putting the tent up just outside Gillette, Wyoming at Key Hole State Recreational Area. While looking for a place for the tent we got stuck in the sand and tested our desert driving skills.
We parked the Guzzi right next to our tent, then all of a sudden a park ranger came up and said we weren't allowed to park outside the parking area due to the lack of good soil to grow the grass. We told him we were from Norway and were afraid someone would steal the Guzzi. Since we were from Norway he welcomed us to America and allowed us to park near the tent until the next day. Marit didn't like his gun.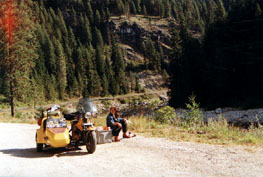 The next day was hot and we made it only to Columbus, Montana. Poor mileage and our butts were getting sore so we pitched the tent early and took our daily bath in the Yellowstone River. During the trip we tried to avoid driving when it was dark because we didn't like the idea of hitting a deer. After this we took a little walk to town to shop and have a beer or two in the local tavern.
Off we went again and our next destination was Lolo Hot springs, 40 miles outside Missoula, Montana. I was here on vacation in 1970 with my parents. Marit rented a swimsuit and I used my underwear (they are now clean) and we went for a swim. The pool was nice and warm. The hot pool is about 112 (F) and the cold one is 100 (F). They haven't even painted the walls in the showers since I was here last!
The cabin we rented then still doesn't have water or electricity, not bad for Y2K. It is cold up here; elevation is about 5000 feet so we spent the night in a new motel. It was really nice.
This day we are going to Washington state through Idaho. We were hoping we would make it all the way to Seattle, but we only made it to the Columbia River, and it is here we spent another night in the tent. We were in bed early. I was awaken by Marit. She said that something was outside our tent! She was scared stiff! It was only a cat, and I chased it away after I heard it scratching something, but couldn't figure out what. The next morning we discovered the beef jerky that Liz gave us in Illinois was eaten. The creature that ate it left behind only an empty bag with a hole in it.
We arrived in Bothell, Washington at 13:00 hours. Everything has changed. Highway 405 is now an eight lane highway. In 1970 there were only four lanes. On our way to Bothell I remembered some names like Kirkland, Wanita Beach and Bill's Dairy. We lived in a place called Qweensgate. For those of you who live in Bothell, I drove straight up to our old house. My dad built it and we moved in it in June, 1969. I didn't get to see the old school - Canyon Park Jr. High. I talked to our old neighbor and asked if the Oleary's lived here. He said, "Yes." Then I said, "You must be Mike?" He said, "You must be Bjørn." He was stunned and didn't say anything more for awhile. Mike was about nine or ten years old when we moved back to Norway. After a few moments here we drove around the block to see some other old friends. They were still there, and it was nice to present myself as the old baby sitter, then this lady knew who I was. The last neighbor we visited are themselves old Norwegians. We had previously phoned them to warn them of our planned visit. I was afraid they would have a heart attack. These people are 80 and 85 years old now. When they saw the Guzzi rig we were touring the U.S. on, they thought we were out of our minds! We were offered a cup of coffee, and after couple of hours we left for Vancouver B.C. Here is where the fun really starts because only the parents knew we were coming. The people in Canada we visited are Norwegians that we had known very well, and we spent a lot of time with them back in the days when we lived in the U.S.
We did some sightseeing in Vancouver and the vicinity. There was a lot we didn't get to see. We spent four days there, and that was not nearly enough time. We stayed there two days too many. In twelve days we had to be back in New Jersey to catch our plane home.
It's Saturday and off we go to Tacoma, Washington, where I lived between 1963 -1969. But first we want to visit the Space Needle and have lunch. I've never been up there.
The Guzzi wasn't feeling well, he had oil coming out where it shouldn't come out so we had to find Moto International. They have a new address for everyone's information. They are now located on Aroura Avenue. Luckily the problem was simply that the breather hose had come off the right cylinder head. It was bad and had to be replaced. While Moto International was repairing the Guzzi, Marit and I found a place to get something to eat.
Afterwards we were on our way to Tacoma. I found the first house on North 8th Street, but the house on University Place had been torn down. This area also has had a lot of changes over the past 35 years. We just passed through and headed on south towards Oregon.
It got dark so we spent the night in a shabby old motel not far from Fort Lewis, the worst I've been in and it cost us $35. We checked the sheets first to see if they were clean. At this place I was afraid the Guzzi would get stolen.
Sunday morning we were off to Oregon and California and the plan was to take the coastal road from Astoria all the way to San Francisco. The road along the Oregon coast is very scenic, and after six hours driving and almost no mileage we had to get back on I-5 to reach Salem. This night we spent at Holiday Inn in Cottage Grove. After Canada we slept only in motels. This was a five-star place compared to the last one. I looked over the bike after we checked into the motel, and all of the 36 spokes on the front and rear wheels were loose. I had a new paint job done during the winter so the paint between the plates of the wheels acted as a cushion, I guess. The bolts were tightened up and Mille GT was ready for action the next day.
We had a good night's sleep and we didn't want to get out of bed. The continental breakfast surprised us - only doughnuts, pastries and cereal. They should come to Europe and try a real continental breakfast. Anyway, we were off again heading toward California. We got caught in a hail storm just across the state line inside California. This hail was like small marbles. After two inches of this stuff had fallen on the road, it was uncomfortable to drive on.
After we got to the border check point in California, we had to show them our two oranges. They let us take them with us after inspecting them.
After a while Marit and I changed places when I was sitting in the sidecar I noticed that the nut holding the back wheel together was missing! Marit was doing 75 mph and didn't understand my sign language at first. She finally stopped and we had to empty the trunk of the sidecar to get to the tools. The wheel had been wandering back and forth for about 15 mm. At this point I didn't notice how much damage had been done. We got the axle back in place and carefully drove about one hour to a Yamaha dealer along I-5 north of Sacramento and got it fixed. They had a nut that fit, bought one extra and fastened it with Locktite. We spent the night right outside Sacramento.
Time was running out. We said to ourselves that we had to see the Golden Gate Bridge since we had travelled this far, so the next morning we were on our way to San Francisco and the Golden Gate Bridge, mother of all bridges! We didn't have time to visit "The Rock," but we drove over the bridge and into downtown San Francisco and San Jose and all the way to Tehachapi. We spent the night at Ranch Motel, an old worn down motel but it was clean and cheap. We can recommend it to others passing through.
The next morning we drove off again just like every other morning. We had breakfast in Barstow, California. When we checked our bank account we found out we had only $350 to get us back to New Jersey. We still had over 2500 miles to drive! We had to cut down to two meals a day for a while. At this point I had been feeling a strange vibration under my feet at about 4500 rpms . I suspected the universal joint on the drive shaft, but I didn't tell Marit about it. I didn't want her unnecessarily concerned. We got to Arizona and took off to Route 66 at Seligman for a change since it was running parallel with I-40. The temperature was 109 degrees (F), extremely hot! We had two big jugs of water with us when we left Tehachapi just in case something happened driving through the desert. I'm not going to die of thirst over here!
We were both concerned now that we were running short of money. The Guzzi had to have gas! That was a must! We were now on a diet. We had toast and milk for breakfast and one good meal at night. We got all the way to Flagstaff, Arizona and paid $22 for a good motel along Route 66. The scenery has to be seen to be appreciated! We did not get the chance to see the Grand Canyon, which was on our list of things to see.
When we got to New Mexico, Marit said there was a strange vibration under her feet, so I had to tell her what I was afraid of. I was right, she did get concerned for Guzzi. After a while we ran into a thunderstorm with heavy rain. Marit was driving and she doesn't like thunder and lightning in the U.S. It made a terrible racket so Marit twisted the throttle wide open, patted Guzzi and said, "You have to make it to the next gas station." It was pouring down rain at this point. The Guzzi was sneezing and coughing a little now and then. I think Guzzi was telling us he was about to drowned! We got to a gas station (the tank was about empty) and we were soaked to the skin. Guzzi got some attention, oil and gas. We were under a roof for about one and one half hours. Guzzi dried up and was ready for more rock & roll at 6000 rpms. This was the speed at which Guzzi was running since we left San Jose. This equals about 75 mph. We only stopped to fill the gas tank, eat, and sleep. We were now driving till dark (about 8:30 - 9:00 P.M.), trying to do at least 500 miles each day.
We drove through New Mexico, Texas, Oklahoma, Arkansas and Tennessee. We had to see Graceland since it was right around the block, and according to the map, right on our way. After nearly two hours of driving we couldn't find Graceland. We stopped to ask someone for directions and found out that we hadn't read the correct symbols. Marit wasn't very pleased about this. (She is an Elvis fan at home.) But she understood the situation and knew we could not turn back. We spent the night in a crumby motel in Jackson, Tennessee. You get what you pay for! No offense to anyone but I think Marit and I were the only white people there, and everyone was friendly towards us.
We had only three days left to get to New Jersey. But first we had to get to the Labor Day Weekend rally at Shreve. We left Jackson at 9:00 A.M. on Sunday and arrived at the rally early Monday morning at 1:00 A.M. We did about 630 miles this day and we were beat! Our behinds were aching and fingers vibrating. It was good to see all the Guzzis. We tried to arrive earlier but just couldn't. The bunch who greeted us took good care of us. I told them about the problems with the Guzzi and they said it was no problem. The greatest Guzzi dealer in the country was only 70 miles away and in our direction of travel. So we had a beer, ate some food, pitched the tent and got to bed. Woke up the next morning to nice sunshine like every other morning and had a good breakfast in the barn/cafeteria.
Great people here as well as in Indiana. Sorry we didn't get there in time. Better late than never. Jack took us to Salineville, Ohio to see Eish's. They did a wonderful job on the Guzzi on a holiday. Marit and I are very grateful to everyone that helped our Mille GT. We are especially grateful to Bob Eish and his wife. We'll never forget the service we received there! Thanks to you all!
Tuesday we drove to New Jersey. Wednesday we found a company that would send the motorcycle back to Norway. This night we spent in Elizabeth, then caught our plane Thursday.
We are already talking about the next time we can come over, but we won't drive around the whole U.S., maybe the eastern, central or western states so we can see more.
Thank you all for the nice memories of the United States of America!
Marit and Bjørn Hagen
Email: bjorn.hagen@kleppnett.no