Profiles - BJ Schwartz, Guzzi Guru
A Life Shared
Flames danced knee high and cinders sparked and crackled in an Arizona campfire. Stars lit the sky. Gathered in a circle, most standing, some sitting, most sipping a brew, others warmed by java, all were captivated. All were listening. One was telling tales of riding adventures far and wide on his Moto Guzzi. An occasional chuckle was heard, once in awhile someone would say "Yeah, that happened to me too," or "I've ridden there and I want to go back." They listened gazing into the fire. They listened looking above to the stars. They listened to BJ.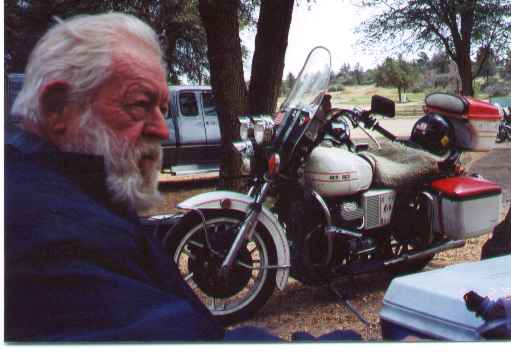 I first met BJ five years ago at his home in the high desert town of Hesperia. I could not find a police dash for my Ambassador restoration. Moe Moore at Cycle Garden suggested BJ as a source. Sure enough, BJ had one. I knew he had been the Southern California MGNOC Rep, and that he used to have a Guzzi shop, but now I thought he was one of those "been there, done that" types that stayed close to the ranch in his twilight years. Little did I know. I know a lot more now. This is a man who touches everyone around him, friend or stranger, with his generosity, wisdom, spirit, and experience. Taking his time to smell every rose along the way, he rides across this country. He rides to experience Mother Nature in all her beautiful glory and doesn't want to miss any of it. He rides to look into the eyes of his good friends and shake their hands. He rides to share his life with those he has yet to meet.
At the base of a huge boulder situated between a few shrubs and knarled trees, and within touching distance of his thirty-two year old Ambassador, BJ and I sat and talked at his camp picnic table. It was late Friday afternoon at the 2003 Arizona State Rally and riders were steadily pulling in to the registration booth, only a short distance away. As BJ and I were talking, more and more riders, smiling in recognition as they strode over, would come up to say hello to him with a hardy handshake. Later that evening, as described above, we listened to this master storyteller. All is well at the Arizona rally.
Grease and Sweet Memories
BJ was born in Syracuse, New York, in 1928. He was adopted by Charles and Elva Schwartz and raised in Western New York out by Chautauqua Lake in the little town of Falconer with a population of 3000. BJ enjoyed his childhood and learned the golden values that are still with him today. He said of his up bringing, "Both my parents showed me one heck of a great way to live. We never had a lot, but what we had we enjoyed. I just had a ball. Just a great way to live."
He continues, "My mom taught me how to take care of myself and to clean up after myself when I'd make a mess. It was a good relationship."
Like Bob Nolan, Jim Knapp, Dave Blue and other renowned Guzzi mechanics, BJ was a Gearhead very early on. BJ said, "My dad used to get on me for working on the car and getting all greasy when I was a kid. Then my mother would make me go down to the cellar and use the shower because otherwise I'd mess up the grown-up bathroom upstairs. I was about ten or eleven years old."
Raymond Schwartz, BJ's brother, was adopted also and was fifteen years older. Because of the age difference, the two brothers didn't become really close until reaching adulthood. Raymond was married and raising a family when BJ was still a kid so they never had too close of a contact. Raymond passed away in 1993, by that time BJ was thankful that he had gotten to know his brother much better. Long before then, Elva died when BJ was only sixteen and four years later Charles died. Fortunately, BJ was self sufficient at this early age and carried on in life bringing along his sweet childhood memories.
"It's a wonderful world out there. People need to slow down and just look at it"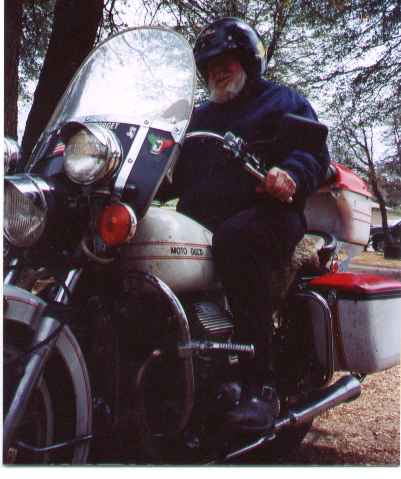 Helicopters to Triton
Graduating from high school in 1946, BJ joined the armed forces in the 82nd Airborne where he worked on helicopters and other aircraft. They had given him an IQ test and came to the conclusion, "You are a mechanic, keep going to school." When the Air Force received helicopters in 1947 from Bell Aircraft, BJ was sent to helicopter maintenance school. Completing his service in the military, he was encouraged to get an A&P (Aircraft and Power control) license in Buffalo, New York, and look for a job in the industry.
BJ remembers, "They told me to come up to Bell and they would get me a job in the helicopter division. There weren't many helicopter mechanics and I'd already been through all the training so my skills were in demand. In the service, I never got overseas. Every time I was in an outfit that was getting ready to go overseas they would pull me out and send me to school again. I was in the service for two years and got out in 1948. Then I went to the Academy of Aeronautics in New York at LaGuardia Field for a two-year course. I've always enjoyed wrenching. I had a good mechanical background."
BJ was hired at Bell Aircraft in 1950 and found himself mired in an imbroglio between the employees and the company. He said, "They had just gone back to work after a 21-week strike. I couldn't move, they had me pinned down, I couldn't get into helicopters to save my life. I hired in just shortly after the strike ended. It was very difficult; the union was really in control."
BJ married Esther, his high school sweetheart, in 1951. They raised five children: Sue, John, Patrick, Kenny, and Greg. First born was Sue in 1954. Like her father, Sue joined the military and has also been a Blackhawk helicopter mechanic. Because of a knee injury, she is now on a partial disability pension. BJ said, "She is having her share of problems, but she is still surviving on her own, and doesn't ask for anything."
His eldest son John makes a living as a semi truck driver. Patrick is a general manager of an electrical supply company in Grass Valley, California. Kenny, self-employed, runs a pool service for a living and has loved model building since he was a kid. Now he is an award-winning master modeler who is on retainer for Rocketdyne. Greg is a "good old boy" that works as a line boss for a fence company and likes to spend his off hours fishing. Among all his off spring, BJ has fourteen grandchildren.
During the time BJ and Esther were raising the kids, BJ was a scoutmaster for fourteen of those years. He's hiked several segments of the John Muir Trail and has been to the top of Mt. Whitney with all his boys. Sometimes he'd throw a forty-pound pack on his back and hike fifty miles in a week. BJ said, "I absolutely loved it. I could sit and look at pine trees and talk to squirrels. It's a wonderful world out there. People need to slow down and just look at it."
The Schwartz boys wanted transportation. Supporting that many children, BJ couldn't afford automobiles, so the kids bought motorcycles. Among the many bikes owned were a Honda 305 scrambler and a 450 twin. In the early 1970's BJ himself bought an old two-stroke Honda 80 and later a 500 four. At the time, he thought that 500cc it was a big machine. BJ's friend, a retired Los Angeles motorcycle police officer by the name of George Barnes, rode a Moto Guzzi.
About his introduction to Moto Guzzi and the MGNOC BJ said, "I wanted George's Convert police bike so bad I could taste it. I always wanted that one because it was serial number 000001. I didn't get the bike; his son got it I think. In 1975, for $350 I bought my first Moto Guzzi, a 1971 Ambassador, from the Lynnwood Police Department. It was kind of ironic because a few years later, after I bought the shop, I ended up selling it. I've sold that Ambassador three times. Someone would buy the bike, but because they would move out of the area, I would buy it back and sell it again. The third time it came back, I said to myself, 'I'm destined to keep this old beast.' and I've kept it ever since."
Being a dealer BJ was able to track the mileage. The frame itself with the nameplate on it has over 270,000 miles. The Ambo had 100,000 on it when he bought it from the Police Department. George Barnes was the Southern California MGNOC Rep at the time, so obviously being a Guzzi dealer BJ joined. He was very active in the club from the start and went on to organize and sponsor many Guzzi rides and events from his shop.
While employed at Bell, and long before he started his motorcycle shop, BJ had job offers in California with Lockheed Aircraft Service and Slick Airways, a competitor of the Flying Tigers. He worked with them for about a year and then left to be a junior draftsman with Western Design and Manufacturing in Burbank where he stayed for a little over four years. As the years rolled by, BJ worked for many aerospace engineering companies in a career that spanned over twenty-six years. He tells of his aerospace experience this way, "I got these jobs by word of mouth, and I never really had to apply for a job. I've always seemed to have a job waiting if I wanted. So, I stayed in engineering. I started off as a junior draftsman. Over time, I went up the line, through checker, junior engineer, and engineer, and never went to college. When I finally quit, I was a group engineer for Hydraulic Research. I had more of a position, not a job. I had six graduate engineers working for me. They knew I didn't have a degree and they didn't really like that, but they tolerated me because I happened to be very talented. With the structure of aerospace during those years it was very competitive and there was a lot of boondoggling. I never stayed long enough to really retire with one company because they would get to a point I couldn't tolerate and I would have to move on."
In aerospace, BJ finally reached a point of disgust and disappointment. He was working on the NASA Triton Two program when a gross error was discovered on some silo equipment that he helped worked on. He knew what was wrong with it and told the Bureau of Corrections how he thought the problem could be fixed. The response was, "We have three hundred of those out in the field and we are not going to change anything."
Not being able to do the job he thought necessary, and getting chastised for even thinking about it, he threatened to send a report to his congressman. He wanted to do the job, but he wanted to do it right. The company disagreed and BJ became very frustrated. The general manager said emphatically, "If you send that report, our company will be blackballed on every government contract we now have."
BJ responded, "I know how to fix it. You mean to tell me I can't do the job right?"
The manager replied, "That's right!"
It wasn't too long after that, about another six months, BJ quit aerospace. The general manager asked him, "What are you going to do now?"
BJ answered, "I'm going to open a motorcycle shop."
"I always believed that what goes around, comes around. You treat people decent"
Unselfish Considerations
Upon leaving aerospace engineering in 1979, BJ bought a functional and viable motorcycle business in Van Nuys, then known as Valley Motorcycle Outlet. His son John had just left the navy and would help BJ run the shop. They sold used bikes and did service work. Across the street, coincidentally, was a motorcycle shop named "BJ's Motorcycles" that sold Guzzi. BJ spent a fair amount of time across the street. About six months later, BJ had an opportunity he couldn't pass up. He was over at the Guzzi shop one day and the man that ran the shop told BJ that the owner, who lived in North Carolina, wanted to sell the business. BJ contacted him, negotiated, struck a deal and went into escrow. That was in 1981.
BJ sold Guzzi and Ducati, but during the 1980s he couldn't get enough Guzzis into California (EPA). All he could do was deal in Guzzi parts and service. Nevertheless, because of his outstanding mechanical ability and a couple of good mechanics under his employ, he had a great business going. BJ would supply bikes for anything, including police departments and movie stars.
"Clint Eastwood wrecked more Guzzis than we could shake a stick at," he said.
However, BJ feels that the key to his success was organizing, tracking, and controlling the parts inventory. He describes his system, "Customers would call and I always made it a point to get them to describe the Guzzi they had. Then I would tell them, 'Well, we've done this to it, we modified that, and changed this.' I kept track of the information and put notations on their cards, what they had and what they needed, then filed it in the Rolodex. Keeping track of that is what made the business."
I care to mention another couple of reasons why his shop was successful - his magnanimity and karma. BJ shares his philosophy, "I always believed that what goes around, comes around. You treat people decent. People would come in and we would always talk to them. You don't act like 'Here's my stuff buy it.' You can't do that. You can't manipulate people. You've got to be nice to people. There was this little guy that used to come in who looked like a bum that couldn't buy his way through a penny arcade or even a postage stamp. He would come in twice a week and ogle at this black and gold Ducati 900. I always treated him decent, gave him brochures to look at, and told him what the bike would do and how it would handle. I'd let him to sit on it. I asked him one time, 'When are you going to get it?' He would say, 'Well, I'm waiting for my money.' One day he came in and threw a cashier's check on the counter and said 'I want my duck.' We took the bike in the back, serviced it for him, he took off and rode it into the sunset, happy."
After a few years in business, BJ's lease was coming up for renewal. The property owners wanted to raise the cost so high BJ started looking elsewhere for a location. He found two and a half acres of industrial property in Hesperia and moved the shop there in 1983. It was during this time that Esther died of cancer. They had been married for thirty-two years. A few years after Esther passed away, BJ became romantically involved with Diane, a good friend of the family. BJ's Valley Motorcycles was in business until 1989 when, like Esther, Diane died from cancer. BJ sold the shop retained the inventory. He stored all the motorcycle parts in his over sized garage and obtained a hobby business license as BJ's Cycle Stock. At the time, he said in the MGNOC newsletter, "Due to recent events that have occurred in my life I have decided that a new direction is required. I have submitted a letter to Moto Guzzi North America terminating my franchise and I am now just a Guzzi owner and not a dealer. I will continue to assist Guzzi owners as much as I can. I would like to extend my heartfelt thanks to all the Guzzi owners for their unselfish considerations extended me during a very trying period of my life. It is always a setback to lose someone close to you."
Southern California Reps
BJ met Gail at a country-dance bar. She liked to dance and also ride motorcycles. Gail became BJ's motorcycle partner. Before they were married they had already rode to the 1st Annual Arizona Rally while it was still held at Camp Verde. A year later, as husband and wife, they rode to the National in West Virginia taking in the Blue Ridge Parkway all the way down to Asheville and crisscrossing through Missouri, Alabama, Oklahoma and Texas. They came back in June to attend Gail's youngest son's high school graduation then packed up again, and with two other friends, rode to the Oregon rally in Prineville and on to Montana, Wyoming, Sturgis and Colorado. All total, they were on the road for five months. Now that's a motorcycle trip. When BJ met Gail, she already had six children from a previous marriage: three boys and three girls. Between the two of them, they have thirty-three grandchildren and six great grandchildren. BJ joked, "I told her if they all swooped down on us at once, I'm packing the Guzzi and leaving!" BJ settled in with Gail at her place in Hesperia.
They became Southern California State reps in 1991. Said Frank Wedge, "I would like to express how good I feel about John and Gail taking on this position. Anyone that knows John and Gail will agree that they are easy going wonderful people and well thought of by those that know them personally. Besides that, John owned and operated a Guzzi shop for years and is very knowledgeable." The Schwartz held the position until 1999.
About ten years ago BJ's Cycle Stock suffered a severe set back Unfortunately, he had a fire in the garage and lost $20,000 worth of parts. All BJ could do was clean up the mess and carry on. By the time I met him in 1998 he was back in full swing rebuilding motors, and mailing out parts.
"In good weather we ride from the desert up to the mountain towns of Big Bear, Arrowhead, or Wrightwood and have a dish of ice cream and solve all the problems of the world"
Have Guzzi Will Travel
Having ridden to so many Guzzi rallies, BJ wants to make a display board to mount all the pins and patches on that he's collected, just to keep track of them. One pin he doesn't have is for the Illinois rally, but given time he'll have that one too. Last year he rode to the National in New York and this summer he was on the road for two months traveling as far away as Michigan's upper peninsula. On that journey he stopped in to see long time friend and Ohio Guzzi Rep Jack Arnold. This summer he lent support to New Mexico MGNOC Rep Kevin Hamann by attending the Guzzi Gathering in Santa Fe. A few weeks later, he rolled into the National in Mt. Vernon, Washington. When at home, Gail knows BJ is getting restless when she sees him looking at roadmaps.
Two years ago BJ was given his 100,000 Mile Badge. Frank Wedge said, "John listed only one Guzzi, but I know he's had several. I supposed 215,961 miles is enough and John need not continue listing more Guzzis. He rode all those miles on his 1971 Ambassador. Whata guy!"
It's not just for the miles in the saddle that BJ rides however, more importantly, it gives him an opportunity to spend precious time with his many good riding friends, and of course, meet new ones.
Arizona MGNOC Rep Tom Short said, "I remember the first time I met B.J. I was introduced to him by Larry Hennington and Mark Wilde at the Arizona Rally. Both knew him really well. Over the years, BJ and I have become quite good friends. I traveled with him to the National Rally in Sipapu, New Mexico, in 1999. I think it was our love of old bad jokes that really bonded our friendship - maybe Guzzis played a small part too! Two years ago, I met up with him at his house, and then he and his son and I headed for the National in Grass Valley. What a great trip! Then last year, I met up with him again to go to the San Diego rally. I had bike troubles and he ended up rescuing me with his truck about twenty miles from his home. The next day he delivered my bike and me to Huntington Beach and Mark Ethridge's Moto Guzzi Classics for some major repairs. At the rally, BJ and I took a little ride over to the local airport. I wanted to show him a P-51 that is stored over there (BJ loves old planes and used to work on them). We went to the hangar, but it was closed. The office next door was open and so we went in. I asked if the plane was still there, and they said yes. 'Just go through that door.' I opened the door to the hanger and there she was! A big, beautiful old war bird. BJ talked mechanics with the guys who were there for a while, and then we left to see more planes. It happened that the there was an air show at Mare Island and four old war birds had stayed the night at the airport. We got to climb around on the planes and look them over real good. Then, it was time for them to go. They fired up those planes. What a terrific roar! We were no less than 50 ft away as these magnificent planes taxied to the runway and took off in pairs! What a treat for ol' BJ and me!"
Fellow wrench Jim Knapp said, "It is always great to see BJ riding one of his compositions, and even more fun if he decides to rebuild a cylinder during a rally and yanks everything apart in the campground. He's helped a lot of people, including Bert Stewart, the Cottonwood Guzzi dealer I bought out in 1995. Among the things that I inherited was a hand written flat-rate guide written by BJ that helped Bert get his business rolling. Getting to spend time with him around the fire is one of the reasons for doing the Arizona rally. One year we gave him a special appreciation award, but he wasn't there to accept; BJ was down in the campground helping somebody fix their bike."
Between his long distance sojourns, BJ rides locally with his friend Richard Conlouge who rides a 1986 Honda Shadow. Richard used to ride long distances with BJ; one year they rode to Sturgis. BJ describes their relationship, "I tried to talk him into going with me this year on the long ride but he's had an eye operation and is starting to lose his eyesight; it's getting to be a little hazardous for him to ride. We ride locally all the time though. Richard's a great guy and is nine years younger than I am. He just retired from Amtrak. He lives down in Rialto, about twenty-five miles away. We ride a couple days a week. We meet at his place, or my place, or any old place. We just ride down and get a taco or have an ice cream cone or something. In good weather we ride from the desert up to the mountain towns of Big Bear, Arrowhead, or Wrightwood and have a dish of ice cream and solve all the problems of the world. He's my good riding buddy."
As Far As the Eye Can See
As mentioned, BJ rides because he loves the road, because he wants to see his friends, and also because of that feeling of sitting astride a Guzzi V-Twin. I think many of us riders miss out on another of BJ's reasons; a reason that we may only touch on in our hearts and minds while riding at speed down the road, even though we may feel At One with all that surrounds us. BJ stops to appreciate. He stops to focus, with his soul and sometimes with a camera, if only for a scarlet flower.
BJ said it this way, "I met some Honda dealers at a rally last year then later saw them at a rest stop in People's Valley. They were riding those brand-new powerful high tech Hondas; they were beautiful bikes. They were looking at my grungy old Guzzi. They thought that was a great old bike. After a while I told them that I had to get going and said goodbye. I was riding along and as always, admiring the desert. There was an incredibly beautiful stand of ocotillo cactus. I couldn't believe it. This thing was in full bloom, just brilliant red. I stopped. There was no traffic, so I parked right on the pavement because the shoulder dropped off a half a foot into sand. There I stood, and behind this great ocotillo grew two big saguaros, beautiful green. I got out my camera. Well, here come these Hondas. They see me sitting there. Breaking hard, they stop and asked 'What's the matter, what's the matter, did your bike break down?' I said no, look at those, look at those, aren't they beautiful? I told them I just had to stop to take a picture of them. And they looked at me kind of funny, 'Okay, you're fine,' and they take off and go."
I've ridden BJ's favorite road; it's one of mine too. He says, "Every chance I get I ride from Bryce Canyon over Highway 12 to Escalante, Boulder and up to Torrey Pines. It takes you into Capital Reef National Monument in Utah. I think that is the most beautiful ride there is. You got sweepers, you got mountains, and you got twisties and magnificent views. In one section you ride for miles high atop the winding ridge, either side of the road is steep downhill. It's just beautiful country as far as the eye can see."
Simplicity Personified
I asked BJ to tell me a little bit about his main ride, which was parked behind him as we talked. He turned and looked back over his shoulder at it and said, "To me, the older Moto Guzzi is simplicity personified; a reasonable amount of mechanical ability and you can do almost anything to them. What I love riding about them the most is that they're just a big old clunker. They just roll along down the road and have their own unique power band. I have driven this one so long and so far, that if something goes wrong, I know what's wrong. I can listen to this one and tell you what's wrong literally. Individual riding habits are different. I want to get from A to B safely and intact. I carry parts with me I think I may need. This is an Ambassador with electronic ignition; I put a Dyna III in there. I cheat; I carry a complete late-model duel point distributor with points in it. If the Dyna goes bad, I just put it on top dead center and yank the distributor out and throw the other one in. I also have a late-model crankcase and a late-model cam in it."
"Slowdown and enjoy life, kickback a little. Don't be in a hurry. Stop and talk to people"
Penguins and Dust
BJ never rides alone. Attached to the inside of the fairing, next to the dash on his Ambassador is his permanent companion - a furry toy penguin. Most of us collect something: For my Dad it was Snoopy memorabilia from Peanuts; for me it's miniature Donald Duck figurines; for BJ it's penguins. His grandchildren are a major source of penguin giving. His little traveling buddy smiles whimsically as they motor down the road and has eyes that seem to be looking everywhere at once. On one long ride BJ was coming out of Wounded Knee when he noticed his penguin was gone. He backtracked a mile or two and found it in the road, untouched. Having the penguin along is like having the company of his family.
BJ said, "On a ride, I stop and go into the antique stores. A little old lady would come up to me and say, 'Can I help you?' I say, 'No thanks, I'm just looking.' 'What do you collect?' she asked. "I collect penguins and dust,' I replied. And of course, that always gets a conversation going. It's amazing things you learn when you talk to people. You can start the simplest conversation standing in line at the bank. Some people just turn their back on me. If they don't want to talk, well I don't care. When I first moved up to the desert from the city, some of my customers would come up and say, 'What do you do up here on the weekends?' Jokingly I say, 'Well, on Saturday we go to the dump. On Sunday we go to the freeway and watched tourists go in and out.' That always strikes a cord," BJ said.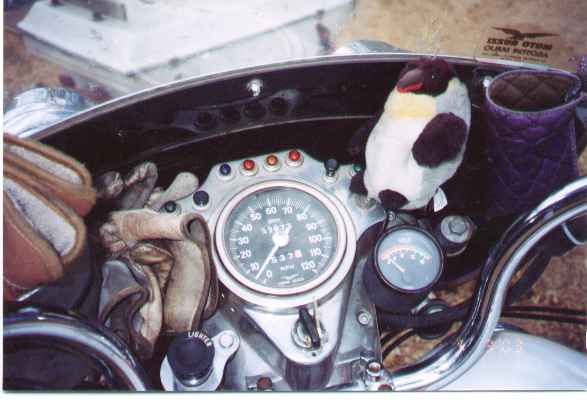 Some final thoughts from BJ, "Guzzi, for me, has probably been one of my great experiences. I don't think I've ever met a bad Guzzi rider. They're all just great people. They're considerate. They understand the mystique of the Guzzi. I guess that's part of the mystique also. They're just a phenomenal group of people. You can go anywhere in the world and somebody has seen a Guzzi and they'll want to talk to you about it. They're interested. The Guzzi owners are almost fanatical to it, and I am too. I can talk Guzzi all day long. The people I have met are absolutely wonderful. Of course, people are wonderful regardless - if you just give them a chance. So many people get wound up in the mundane affairs of life, worrying where the next dollar is going to come from. I never made, or had, a lot of money, but I've always got money in my pocket. I've seen hard times, and I've seen good times. God has been so good to me; I can't believe the things that have happened. And Guzzi has been good to me."