Racing News
The year 2000 vintage race season is officially over and the urge to write about it is upon me on this cold November evening in Pennsylvania. I hope this is of interest to someone out there in Guzziland.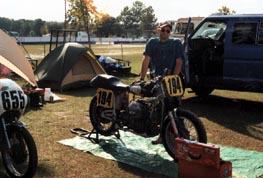 I started running my Ambassador based 750 in the American Historic Racing Motorcycle Association (AHRMA) events back in 1998. My brother Jeff (of MotoJefro) and I got into a deal that gave me the ownership of this great bike, I affectionately named Blackie. Jeff had built the bike from another one he rode for years - called Hi Ho Silver. Jeff had some outings on the bike but decided to focus on another Guzzi race project using ideas he came up with from his experience with Blackie (a bike we called "The Secret Weapon" but, I will touch on that later). I was racing a 650 Yamaha at the time. After seeing the Guzzi race bike, I had to have it!
After two and one half years of development, this is how the bike is set up:
FRAME: Stock Ambo/Eldo with tabs and unwanted steel removed to make as light as possible without degrading its strength. The forks and 18" front wheel are from a 1977 Convert. I built spacers to jack the spring rate up. However stock dampers are used. Steel braided brake line goes to Brembo "Gold" master cylinder with standard Brembo two-piston caliper and rotor. I found Performance Friction carbon pads to work the best. I used Pro-Flo or LeMans 35mm clip-ons or K&N Superbike bar, depending on the track. Also a Tardozzi fork brace was added. Clutch cable is from a LeMans and clutch lever is Tomaselli. Throttle is Motion Pro one quarter turn.
The swingarm is stock as is the rear wheel with the exception of the brake plate being lightened and drilled for cooling. The final drive is lightened with 8/35 and 8/37 ratios being used. Rear shocks are Progressive with 95/140 Springs. Foot controls are stock with about one and one half inches cut off the foot pegs. Stock battery plate was removed using an aluminum plate as a substitute. Tires are Avon AM22 and AM23.
There are two gas tanks to choose from. Both are three gallon units from Husky dirt bikes. One is aluminum, one steel. The seat is a one piece fiberglass by who knows who from a Will Stoner swap meet. Come to think of it the tanks came from the swap meet too.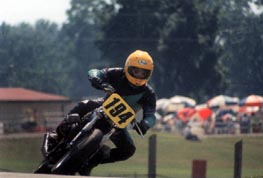 ENGINE: Stock Ambassador with flywheel lightened by Bob Eish, heads ported by Jefro, manifolds from an 1100, 38mm Mikuni carbs, exhaust system by Ed Salley Racing. The oil breather, points, and distributor are stock. The ignition coil is from Accel. The clutch is also stock. The electronic tach is by Daytona. Jeff Built a great reliable motor with over thirty race finishes, (including two were at Daytona running at 8000 rpms for a long period of time!), eight full practice days and no DNF races, which is why the bike will always say MotoJeffo somewhere on it.
TRANSMISSION: Stock Eldorado five-speed. The best Guzzi transmission I have ever shifted - I am pleased to say was provided by Moe Moore at Cycle Garden. Moe did an absolutely fine job on this transmission which is why this bike will always say Cycle Garden somewhere on it.
In AHRMA, I run the bike in a class called Sportsman 750, which includes a lot of very competitive machinery and riders. There are a whole slew of Triumphs, Nortons, BSAs, BMWs and Yamahas. Their motors range from fairly stock to heavily breathed on with chassis' that are Modified Stock, Champion, Trackmaster, etc. Good to great suspension from the period is used with a single disc brake up front and whatever on the rear to provide stopping. Although the Guzzi can fit into several classes, I focus on Sportsman for four reasons:
(1) I like running with other two and three cylinder four-stroke bikes and riders of the approximate same vintage. (2) I like running with a good size competitive field, usually ten to twenty bikes in a race which means you will be racing somebody. (3) I like the look of an un-faired race bike, very stark and business like!
(4) Who else is gonna run an Ambassador, other than brother Jefro or my other brother Dan who trounced me a couple years ago at Mid-Ohio with an early version of the secret weapon.
In 1999 1 was fortunate enough to run a number of AHRMA Nationals which included races at Deland, Daytona, Gratten, Mid-Ohio, Gingerman, Park City Utah, and Talledaga. A lot was learned and I ended the year ranked 13th in the Sportsman class. I ran a total of sixteen races and four full practice days without so much of a hiccup from the old Guz! The only maintenance I performed for the whole season was an oil change for every race weekend, valve adjustments, fresh plugs, battery exchanges and two sets of tires! Didn't even touch the points or timing - it just ran sweet consistently.
In 2000 1 again ran a bunch of races including Deland, Daytona, Gratten, Mid-Ohio, Putnam Park, Talledaga and Roebling Road. The maintenance program was the same as 1999, super reliable! However 2000 was a difficult year in other ways. The day before Mid-Ohio Jefro was diagnosed with heart disease and had to be scheduled quickly for by-pass surgery. I still don't quite understand as Jeff rides mountain bikes at least ten miles a day, is 50 year old, weighs about 150 pounds and cholesterol readings of 180. This threw us all a curve and detuned us quite a bit. Jeff had his bike loaded in the van and was ready when the doctors put his brakes on. We missed Mid-Ohio practice because of the ordeal but were able to race on Sunday of the Vintage Days weekend.
After that it was trips to North Carolina to be with the family and see Jefro through his operation (which I am happy to say was very successful). He is back to riding again as I write this and ready to get back on the track next year. Anyway, as mentioned earlier, the last two races held at Talledaga and Roebling Road were a blast as Jeff let me use his latest race bike - "The Secret Weapon"! What a good bike. A strong motor, longer suspension (no dragging that front engine mount anymore) and great brakes helped me move up a couple of positions in the points. I threw a fairing on Blackie and ran the BEARS class a couple times while I ran Jeff's bike to focus on Sportsman points. I ended up 4th in points for the year in Sportsman 750 out of around sixty registered riders which made me very happy.
Anyone interested in getting on the track, feel free to call me and I will share with you whatever I can to help you get started. Also, if anybody is interested in sponsoring our Guzzi racing efforts, we are always open to your thoughts and appreciate the support at whatever level. My telephone is 412-492-0984.
THANK YOU:
AHRMA for a great organization, Moe at Cycle Garden for the superb tranny, brothers Jeff and Dan. Also thanks to Todd Welch, Bill Welch, Wally Schleper, Ken Pitts (Mr. Curve), Carl Nyberg and Marlin Mankemeyer for driving, racing, pitting, eating, staying together, for the past few years and having a great time. I have great respect for you guys as racers and friends. Thanks to Mike Azzar, Ed Britt, Rev. Jerry Settle, Dave Todd, and Dan Hankle for some great riding together, I have great respect for you guys too. Thanks to Jim Struke, Dave Fulkerson and Dave Temple for showing me how fast a person can really go on old bikes. It's an honor to ride with all of you guys. Also, thanks to Tip Paul as a true Ambassador for Moto Guzzi in Western, Pennsylvania and having an interest in our racing and all the folks that stop by the pits to talk Guzzis.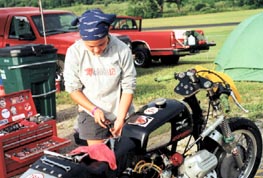 Thanks to my daughter Kate for being my road trip companion and a good little wrench (you'11 get on the track soon) and to my daughter Allison for always supporting her dad's habit. A man couldn't ask for better kids.
Special thanks to Jeff for building great Guzzi and teaching me to appreciate the Carcano design, and for letting me borrow and flog the "Secret Weapon" to finish the season. Thanks Mom and Dad, I know us boys still make you worry.
Thank you God for overseeing my fellow racers, track workers, our families, friends and myself. Thanks Reverend Jerry Settle for taking time to share God's good word with us in those special Sunday morning services, trackside of course.
Lastly, thanks to my fiancé Lynn who always stands by me no matter what. I couldn't dream of a better partner.
I hope to see you all at the races in 2001! Tim Gundlach AHRMA#194, MGNOC 16226.