Spring Time In Northwest
Late spring offers some fine riding weather in northwest Florida. Saturday morning, June 28, 2003, MGNOC Life Member Wes Stephens from Pensacola, MGNOC member Tim Brunner from Panama City, and yours truly departed for Tallahassee to attend a BMW event. It was the Grand Opening of Miller's BMW. The weather gods co-operated and gave us 69 degrees departure temperatures and an overcast sky. A light jacket would have been nice to be comfortable, but none of us had one, but we managed to suffer the morning chill! The ride through the pine forest was boring as far as traffic was concerned, but the mixture of farms sent a cacophony of aromas into the humid morning air. Peanuts on the farms were knee high, the first hay had been cut and the dog fennel was six feet high. All of this kept one alert for the carrion hawks which were clearing the roads of the previous night's road kill. A breakfast stop was made on the beautiful Appalacahcola River at a country inn where we had some smoked bacon, biscuits and gravy with lots of hardy coffee.
Continuing eastward for the next 70 miles we cut through the National Forrest, some state forest lands, and one small town. When you approach Tallahassee from the North, via U.S. 90, you actually come down from hills, and the city appears at each hill top, giving the appearance of small mountains with the city in a valley. All of Florida is not flat as some are led to believe! Its an impressive sight with early morning fog lifting from the surrounding forest of hard wood and pine.
We arrived around noon EST and signed in, found some cold drinks, and met some fellow European bike lovers. There was quite a representation for the Guzzi. In addition to the three we rode in, there were three others on the lot. Tallahassee native and MGNOC member, Greg White, was present with his #71 MOTO GUZZI V-11 Sport, which he registered in the bike show and won his class.
The bike show produced three Guzzi winners (Sport Class, Touring Class and Vintage Class). My favorite Vintage Class was a 1943 BSA war bike in full dress. Tim Brunner won with his '73 Eldorado LAPD. Ducati and Aprilia were represented along with a Cushman, and a retro Kawasaki 650 in new 2002 dress. I imagine there were more non BMW's present then BMW's.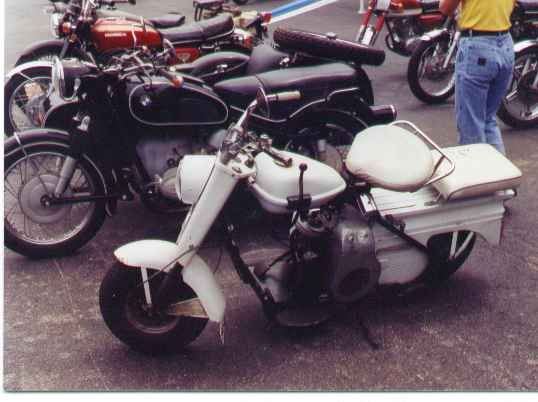 A Harley Davidson club called the "Chrome Diva's" consisting of all young women was there doing a variety of charitable things like dog baths and bike washes. All together there was well over 100 motorcycles there and probably 200 people from as far as Georgia and Alabama. The hospitality was superb and after about three hours we decided to take a different route back to Panama City. Actually that was because a huge thunder cloud was coming from the north and we were not keen on riding in downpours. It could dump several inches in an hour. I'll save my boating adventures for when I go fishing.
We made the return 145 miles in light traffic, on dry roads, and with one gas stop. My EV is starting to get used to me and I managed to get 50 mpg and also barely stayed awake. Compared to the Eldo it is surely a new different steed. We stopped at the campground where the 2003 Florida Rally will happen and all looks to be in serviceable condition. The on site restaurant may be open by October, and if so we'll have a sit down meal with air conditioning and no humidity. No guarantee on that, so do not hold me to it if you come to Florida in October.
I tried to notify everyone with an email address about this ride and I also tried land lines, but I imagine with school out a lot of the Panhandle MGNOC members were busy with summer. No more rides scheduled till Fall. Exception to that is the weekly ride to Tocan's Seafood restaurant down in Mexico Beach for the Thursday night shrimp feast.
A final note! The main reason I attended this BMW event was to promote GUZZI. The new dealer (Miller BMW of Tallahassee) is considering taking on GUZZI as product. MGNA has been in touch with him and I hoped our showing up with nearly all the line, old and new, would give some encouragement toward Miller's decision. Thanks to the seven Guzzi owners who attended. Ride Fast, Ride Safe