This article was originally printed in the Moto Guzzi National Owners Club monthly newsletter. http://www.mgnoc.com
Coon Bottom 2000
Coon Bottom is always the week prior to Thanksgiving, and since that was early, it put us in mid month. Friday, the 17th of November, we had four Moto Guzzis and two Goldwings ready for a sun up departure. My sister-in-law, Martha, on her newly found 1975 850-T with 7000 verifiable miles, my son, Anthony, on his low mileage restored 1972 Eldorado, Paul Bohac on his 1998 EV, and yours truly on my 1973 Eldorado (freshly piecemealed back together after the October wreck on the Italy, Texas rally ride home).
The two Goldwings were ridden by my brother-in-law and nephew. My wife Joanne was bringing up the rear with the truck and motorcycle trailer, and the camp supplies. It takes a lot to support ten people and six bikes for a long weekend.
A week prior I had mapped out a different route, which took us through some nice hilly and twisty country, which parallels the Georgia/Florida border and runs in an easterly direction which we needed to go. The day was mild, about 50 degrees (F) and overcast with a threat of showers. When late fall sets in this part of the "Deep South", pecans begin to fall from trees, and the cotton crop is ready for harvest. The white cotton gave the illusion of snow on the fields. Clouds arrived and some light showers started. We've been through that in the past so we were prepared? More about that later.
The ride was flawless except that Martha's T had one of those cheap J.C. Whitney plugs quit on the left jug, and she thought the worse. I had some spares and corrected that, and we lost only five minutes. The remainder of the ride to COON BOTTOM was a nice experience. There was hardly any traffic on the farm roads and we made two stops - one for breakfast and one for gassing up the Goldwings. Note: they get 100 miles and go on reserve? While the Goldwings were sucking up petrol, Anthony and I went behind the station and gathered pecans. We managed to get several pounds of the tasty nut and were ready to go before the Goldwings were.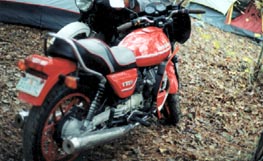 When we arrived at the campground there were 80 plus tents set up and more coming in. The final tally was 190 attendees. There were a lot of old friends from past Coon Bottom rallies. Also, some folks were there from our recent Florida State MGNOC Rally, and some from years past.
There was an aroma from the campfire in the large fire pit, mixed with the evening meal in preparation, which was being prepared by a fish head from the Florida Gulf Coast. He had a large cooker and was frying fresh Grouper and Red Snapper and also a local favorite "GATOR TAIL". The irony here is it's the weekend for the annual Florida Gator and FSU Seminole football game and we were split with fan support at the camp out. All those sideline quarterbacks, especially the Gator ones, did not appreciate the gator tail on the menu.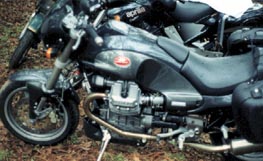 Once again we had our GUZZI AREA and ended up with fifteen Guzzis in attendance. There were two V-50s, and one got the Long Distance award. Also, several Eldorados, one Centauro, a pair of Calis, and the rest were EVs. There were several Ducatis and a Aprilia Single (I think it had a displacement of 600ccs or more), and about four Triumphs. Harleys were in the minority for the first time, and naturally BMWs were well represented with everything from a 1974 R-60 all the way up to the latest big cruiser with every accessory known to the motorcycle enthusiast.
Friday evening was a mix of feast, socializing, kids with marshmallows on long tree limbs, and one big conversation around the fire pit. Saturday morning a bunch of riders headed out for a morning breakfast ride to Jack Wingate's Lunker Lodge on Lake Seminole, some fifty miles west. Lots of campers like us stayed around and we fixed our coffee and hot chocolate and meal at the camp.
Field events were held at 1:00 P.M., and that is when it got to be fun. Rain showers had loosened the grass and clay road where we do the events. Lots of sliding and falls. None of the events are speed related so that makes it relatively safe but very messy. I tried a few of them but could not score a win. However, it was fun and at least my son and I represented the Guzzis.
Saturday evening a smoked pork and beef meal was served, cooked right on the spot, and quite tasty, plenty of food for everyone with seconds available. Awards were held, and most everyone got a door prize. My sister-in-law would have won Long Distances Female if we would have been there for the awards, but we went out to Nicholson Farm House for our Saturday evening feast.
That night it rained on and off all night. Sunday morning was nice enough to cook breakfast, and we started to break our camp, but it started to rain like cats and dogs at 9:00 A.M. We were right in the middle of taking down our camp, so everything got packed away wet. Getting our bikes out of the low area was quite tricky, but we managed to get on the road around 10:00 A.M. After about twenty miles, I had to pull over because we lost three riders in the rain. I traced back and found out that one of the Goldwing's had quit. The engine ran but seemed like the drive system would not go, good thing we brought the trailer.
I was the next to stop because I was saturated by the heavy rain. The temperature dropped to 40 degrees and I was freezing! Good old Wal-Mart got a bundle of cash from me for dry clothes and a rain suit. I forgot mine! Off again we went, and we made another fifty miles to our favorite buffet lunch stop, which is located in the town of Bristol Florida. It's right on top of a bluff overlooking the Apalachacola River. This is the Central Time Zone line.
The remainder of the day was routine with no more breakdowns, and we all made it home wet but safely. That was the last rally for us for the year 2000, and now it's time to do winter garage work on the Eldos.
This item is not related to the rally, but since I am late with everything this year I'll include it as well. On December 3rd we had our Annual Toys for Tots Motorcycle ride here in Panama City, Florida. Among the 340 cycles were four of us on Guzzis. This is always a good time for a good cause. The day was clear and in the low to mid 40s. The ride went well, and there will be a lot of happy faces on Christmas morning.
For those interested in next year's Coon Bottom, it is not publicized, so if you want info, contact me: Phone: 850-871-2800 or email: jdegregoria@compuserve.com You can write: North Florida MGNOC Rep., Jim DeGregoria, 7205 Hiawatha, Panama City, Florida 32404.