This article was originally printed in the Moto Guzzi National Owners Club monthly newsletter. http://www.mgnoc.com
Fred Marsh's First 100 Years
For many of us, May 12, 2000 was an ordinary day. But for Fred Marsh, motorcycle legend, charter AMA lifetime member, and Moto Guzzi dealer of 53 years, this day marked a milestone - his 100th birthday.
Local politicians gave him a flag that was flown over the Connecticut State capitol in his honor. He also received a proclamation from the state to honor his business goals and achievements, numerous birthday cards (including one from Bill and Hillary), and he waved to people in the crowd at a parade in his honor as he rode in a convertible with a sign on its side that read, "Fred Marsh - Motorcycle Millennium Man".
On May 20, 2000, Marsh Motorcycle had a 100th Birthday Celebration and Open House. People came from all over to celebrate this once-in-a-lifetime day.
The day was overcast, the parking lot was full of motorcycles mostly Guzzis, many other brands, including some antique Indians, which Fred was very pleased to climb aboard for photo opportunities.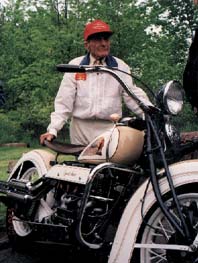 Fred does not ride motorcycles on the street anymore, but he still rides an Indian moped around his parking lot each day.
Everyone enjoyed good food and good company, and of course, two of the biggest birthday cakes you've ever seen, decorated with model Moto Guzzis. On behalf of the MGNOC, I, Sebastian Vernali, MGNOC Connecticut State Rep., presented Fred with a plaque in his honor. It read as follows:
Congratulations Fred Marsh
On your first Cent'Anni (100 years)
Thank you for supporting the
Moto Guzzi Marque
Happy Birthday from the MGNOC
May 12, 2000
Fred also received a plaque from the New England Moto Guzzi Club, of which he is a founding member. When the local news asked him the secret of his longevity, Fred calmly replied, "Just keep breathing and riding motorcycles."