This article was originally printed in the Moto Guzzi National Owners Club monthly newsletter. http://www.mgnoc.com
LeMans IV for the Road
Even as a kid I couldn't leave anything in one piece. Tear it down and see how it works just seemed to be engrained into my head, and so it was with the `86 LeMans IV I purchased from Mac Caruso in January, 2002. I saw his ad in the newsletter and thought his machine would be a fun ride to compliment the `73 Eldorado I had completely rebuilt a couple years earlier. I had convinced my wife that this would not be a project bike, and with the Eldorado behind me we could get started on her list of painting, wallpapering, etc, etc.
In early January we made the deal and Frank offered to take me and his trailer down to Arkansas to pick up the LeMans. All he wanted was gas and food, an offer I couldn't refuse. The weather was gloomy and wet, but not icy. We made the round trip in one big day (Frank wouldn't have it any other way). If you think Frank rides hard on his motorcycle you should go with him in his `95 Cadillac pulling a trailer. Actually Frank is a very cautious rider and driver, he just likes to go fast.
It was a short visit, but it was easy to see that Mac and Ann Caruso are a fine couple. We loaded up and were on our way in a heartbeat and back home before midnight. The LeMans was set up real nice with new paint, 1000S switchgear, Tomaselli 2C throttle, new fork springs, bushings, and Bitubo dampers. Good tires, new Ferodo front brake pads, new u-joint, Dyna ignition, Bub exhaust, Twist Assist on the throttle, and a set of swan bars that Mac designed himself. They are fully adjustable and work great. Mac had also installed a set of 8/33 rear gears.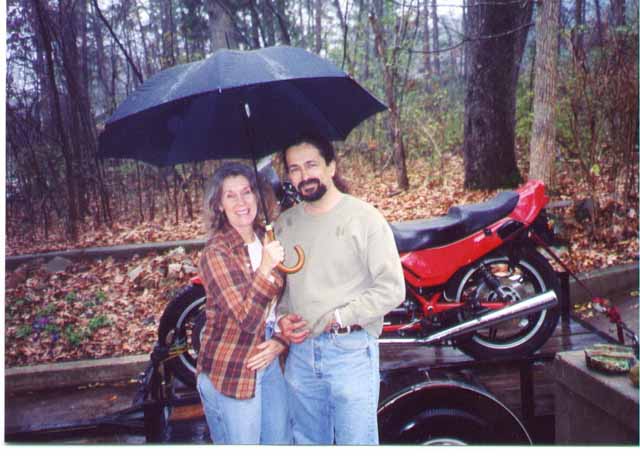 The LeMans was a ball to ride. I had never experienced such a nice combination of power and handling. I made a few short runs with it and was noticing some smoke on startup. Mac had warned me that it would foul one of the plugs on occasion. It did not use oil and we suspicioned a bad coil wire or some other electrical problem.
Well, the weather turned cold and nasty and I decided to pull the heads and cylinders to see what I had. Things were in pretty good shape except for some noticeable wear on the thrust sides of the bores and fairly loose valve guides. That was my sign from heaven so I proceeded to strip the engine! My new project had begun! My wife's list would have to wait, I was on a roll!
My initial goal was to get it up into shape and keep it stock but one call to Ace Malott and this simple project took on a whole new look. You get Ace talking about heads, cams, gears, jetting, flow and all that good stuff and your hot rod genes just take over and the budget has to add at least one more zero. Ace was great to work with. He found a set of pistons and cylinders that had less than 10,000 miles on them for a real nice price so we started there and added a Megacycle 405 cam, hollow cast lifters with shorter pushrods (they are almost one ounce lighter per set of one lifter and one pushrod), roller bearings in the rocker arms, new valve guides, out with the timing chain and in with a set of gears. The carbs received new slides and jetting of Ace's recommendation.
The engine work went pretty smooth except the Megacycle cam held me up for several weeks. I guess they had problems with their machines. While I had everything torn down I decided to make the engine look similar to a new V11 LeMans. I bead blasted everything and painted the block, transmission, pan, starter, front cover, and valve covers wrinkle black. The cylinders and heads I coated with high heat clear. I also replaced all the bolts with stainless hardware and polished each one to a high gloss. This gave it a real modern look.
Now the plot starts to thicken. I had been admiring how Frank had transformed his V11 LeMans into a sport tourer and I was trying to come up with something for the LeMans IV to give me more wind protection and bring my feet further forward and down a little. I already had the swan bars to bring my hands back. I looked at several fairings and windshields, but nothing seemed to compliment the rest of the bike. At one point I called Curtis at Harper's Moto Guzzi and asked him if he knew of anything that might work. He said they had a Valtek body kit that would mount right on the IV. It was just like the one on the 1000 SP III they have on the showroom floor. I found a picture of it on their website and decided that this is just what I was looking for. Curtis made me a nice deal on the kit and I went up a couple of weeks later and picked it up.
It was a lot of work fitting all the pieces on for the first time. A lot of the mounts needed to be tweaked for proper fit and clearance. Once fitted, I decided on some modifications. I wanted a set of Givi hard bags and I wanted them tucked in flush with the sides of the rear bodywork, but that piece had a large flared opening on each side for the turn signals. Not to be deterred I cut the flares out and fiber glassed over the openings so the sides were straight and smooth.
The next thing I changed were the openings for the handlebars. Originally these are open quite far forward since the body is made for the stock clip ons. I decided to fill in part of these openings to give me more wind protection and to give the fairing more eye appeal. This was tricky. I made patterns out of poster board, taped them in place then filled the back side with house foam insulation you spray out of a can. This set up firm overnight. I then removed the poster board and filed the foam to the right shape. Then I covered the foam with fiberglass and the next day I dug out the foam. I then ground the outside smooth and finished it off with body putty and a lot more sanding.
Painting came next. I still wanted it red, bright red, so I decided on the same color Frank painted his LeMans which was 2002 Ford truck red (E4). I still had the frame pretty well stripped, so I started with it, the swing arm and front end parts. I had the engine together by now so I assembled everything except the bodywork and went for a test ride. It ran great! The Megacycle cam pulls like a tractor from the mid 2000 rpms clear to the top. No oil leaks, no weird noises and runs great - test run complete.
Prepping the body parts was next - several days of sanding, filling, blocking and more sanding. With so many curves and almost no flat surfaces the sanding was tedious and it was hard to tell when you had it just right. Another coat of primer, one more blocking and then the red paint went on. I used PPG Concept single stage. I really like this paint because I can get a great gloss on it and it rubs out real nice. The painting turned out just fine.
Along the way I changed several other things to make the LeMans less sport and more touring. I sent the stock windscreen to Gustafsson Plastics in St. Augustine, Florida. Leif Gustafsson designed one for the Valtek body that is about 4" taller. It works and looks great. The seat that came with the body kit is slightly shorter than stock so I had to use it, but it was crowned high and was too hard for me. I had a local shop flatten it out and soften it up in hopes of getting a little more comfort.
Lowering the pegs was a bigger job. First I ordered peg mounts for an SPIII. I think they would have worked but they were backordered and I never got them in. These mounts attach to the frame with two large bolts, what I did was to move the back hole of the mount to the front bolt then I turned out a spool from a piece of aluminum stock, opened up a hole farther back on the mount and had the spool welded in place. It worked great, lowering the pegs about 1.5" and bringing them forward almost 2".
The bag mounts were also a challenge. I needed them solid but wanted them invisible. I was able to make some that mounted to the rear grab rail mounting points on the frame and the lug on the lower side frame tube just below the grab rails. They are completely hidden by the rear body and give the Givi mounts a fit flush with the body.
The exhaust was dealt with next. The Bubs ran great but were just too noisy for long days in the saddle. I shopped around and finally came up with a set of stock stainless steel mufflers that were taken off of a new 1100 Sport a few years ago. I found these at Gene's Parts & Performance in El Dorado, Arkansas. I left the Bub system on the front of the bike. It has a crossover just a few inches from the heads and after reading about Guzzi's new engine in the October newsletter and how it has a front crossover to increase midrange torque I decided this would be perfect to go along with the cam and the touring part of this bike's new job description.
Since the exhaust pipes come within 3/16" of the lower body I wrapped the pipes with heat tape to try and keep the fiberglass and paint from melting on hot days. I also lengthened the pipes a few inches at the rear to bring the muffler outlets farther back. This part of the pipe is easy to touch with your leg when stopped so I also wrapped this extension with heat tape and fastened the ends of the tape with stainless steel band clamps.
Mirrors were the last item and I came across them by accident. Frank had decided to install bar end mirrors on his LeMans, so I swapped him his old mirrors for a couple of caps I made and painted to hide the original mounting holes in his fairing. Sounded like a good deal to me!
All that is left now is to add more miles to the odometer but the weather is getting colder and the trips shorter so most of that will have to wait until spring. I should make a few rallies this year. I didn't get to travel much last summer after I crashed my Eldo in early June, but that's another story.