This article was originally printed in the Moto Guzzi National Owners Club monthly newsletter. http://www.mgnoc.com
Timothy's Travels - 29th Three Flags Classic on a Moto Guzzi LeMans
The Three Flags Classic is an annual run put on by the SCMA (Southern California Motorcycle Association). It always starts Labor Day weekend in Mexico and ends up in Canada, thus three countries, three flags. To enter, you send in your check for the entry fee before December for the drawing in January. They draw 300 lucky people for the run. If you happen to be one of the chosen they cash your check and send you your entry packet.
This last year was my third time for the run. The first time was in 1999 on my first ever Moto Guzzi, a brand new 1999 EV11. I bought the bike only two days before leaving for the run, Nogales, Mexico to Medicine Hat, Canada. You see my 1999 GL 1500 GoldWing had been in the shop for six weeks with only 10k on the clock awaiting a new u-joint and my 1997 BMW, a two-year-old stock bike I bought in Feb. 1999, just had the steering head bearings go south with only 6.5k on the clock. Neither one would be ready in time for the run.
This last year I was planning on riding with my friend Tine Matherly again, but his bike, a Kawasaki Concours, died of electrical problems shortly after we got back from Hyder, AK 1 1/2 months earlier. I offered him the use of my '01 GL 1800 GoldWing for the run, but not ever having ridden that size of a bike before, he graciously declined my offer.
Tine sent me the reservation info he had made for Mexicali, Mexico and hooked me up with his friends in California, members of the Pasadena Motorcycle Club. Included in the group was Vance, a high school gym teacher, whom I rode with once before at a National COG (Concours Owners Group) rally in Klamath Falls, Oregon, a 750-mile day around Northern California then back to K. Falls; Bruce, a police officer whom I had previously met only briefly; and Larry, and his wife Tammie who I met at the Four Corners banquet in February '04.
With only 7k on the '03 LeMans there wasn't much on the bike to get ready: a check on all fasteners for tightness, fluid levels, tire wear and pressure. I put on the tank cover and bag and clipped on and locked the TeKno saddlebags. Next, I very tightly rolled up eight days of clothes and stuffed them in one saddlebag without expanding the bag. TeKno saddlebags can expand to twice their size. This trip I packed old clothes to be thrown away after their day's use. This way as the trip progressed, my load lightened day by day. A can of Fix-a-flat, rain gear, three different weights of gloves, two spark plugs, and a spare headlight bulb, fit nicely in the other saddlebag. I always make a point to call my credit card company to let them know my itinerary before a trip. Nothing's more annoying than to be cut off from your funds in the middle of Timbuctoo, because your credit card security thinks your card has been stolen when you start spending out of your normal habit.
Day one: Tuesday August 31st I left Vancouver, WA at 4:30 am heading down I-5. It was a clear morning, the mercury at 54 degrees. Stopping for gas in Eugene, OR, I thought to myself, I've only gone one hundred twenty miles and I already have to stop for gas. This could get old. I'm used to going three hundred miles between fuel stops with the EV (I have set it up with an additional four-gallon fuel cell on the back rack.)
I proceeded south again on I-5. My next stop was at Grants Pass, OR where I gassed up and spotted a Denny's for breakfast. By this time it was 9:00 am. Originally I thought I'd spend the night in Bakersfield, CA, but I got to thinking the LeMans looks like a sport bike and would be more likely to be stolen hanging out in a motel parking lot near LA. So before getting back on the road, I called my friend Randy Dawes in Yuba City, CA to ask if I could park my bike in his garage for the night.
"Sure no problem, but where are you going to sleep?" Randy asked.
"Why next to my bike of course. Or if you have a gunny sack just hang it on the wall next to the bike and that'll be great!" I replied.
"Well, we could do better than that," Randy said.
It's nice having a friend like Randy whom you can call at the last minute to bum off of. Don't you agree?
Coming into Hilt, California just south of the Siskiyou summit I passed three BMWs all loaded down. I gave them a wave while wondering if they were headed to the start of Three Flags as well. That's the neat thing about our sport; there is an endless amount of destinations and combinations of roads you can take to get there just to spice it up according to your mood and riding style.
When I got to Dunsmuir, out of the shoot came two red Ducati ST2s. Immediately we were off playing in the high-speed sweepers back and forth, jockeying for the lead for about fifty miles until Shasta Lake, where they turned off. It was kinda fun. Traffic was moderate to light, but with no one to play with I slowed down and proceeded to Redding where I stopped for gas. It was sunny, with the mercury at 78.
I changed to lighter weight gloves and socks. Looking at the map I decided to take old 99 South through Chico. It has a little bit of farming with fruit stands here and there, pretty much on the flat and straight side, but it still beats taking the super slab (freeway).
As I pulled up to Randy's place, he immediately came out to greet me obviously hearing me pull in, as there's no mistaking the awesome sound of our Italian twins. I went in and cooled down, with my usual ice water in hand. After the passing of one hour, I decided to pull the spark plugs for a look, since I wasn't getting the kind of gas mileage I thought I should be getting. The plugs looked perfect. So I reinstalled them and chalked it up to old/bad gas.
Looking at my tires once again I decided it would be a good idea to get a new set before the run, as the gents I was to ride with all had Honda ST 1100s and tend to run a little on the hot side. It's always a good idea to take a close look at your tires before riding the next day. Who knows what you may have picked up along the way. I called three Guzzi dealers for a set of OEM tires, but no one had a set in stock, nor would have in less than three days. Mark Etheridge at Moto Guzzi Classics in Signal Hill, however, told me to call him back in the morning. He would call around for me to find me a set of tires. THANK YOU Mark! You're the man! Randy fixed me up with a map off his computer to Mark's place. I also called Vance to touch bases. In talking with Vance, he invited me to stay with him and his significant other in Temecula for the following night. Two free nights in a row Wow! Don't you love it when everything just falls into place?
Randy insisted on a steak barbeque that night even though I offered to buy supper. Would you believe he even barbequed two burgers each for his dogs. I thought Peaches, my pet cockatoo, was spoiled. Randy, you have me beat once again.
Day two: I got up and out the door by 2:30 A.M. I found a 24-hour gas station to fill up. I like filling up in the cool of the morning whenever possible in the summer, as the gas is much cooler. On a hot evening the fuel expands from the heat while pumping, leaving you with less fuel the following morning when it cools down, thus you don't get as much energy out of it.
I got on 99 South then filled up again in Merced. Getting much better mileage and making good time, as the traffic was moving right along, my next stop was Oildale for gas. By then I was able to see the sun beginning to rise over the Sierra Nevada mountain range. I got back onto 99 South then joined up with I-5 through the grapevine, as they call it.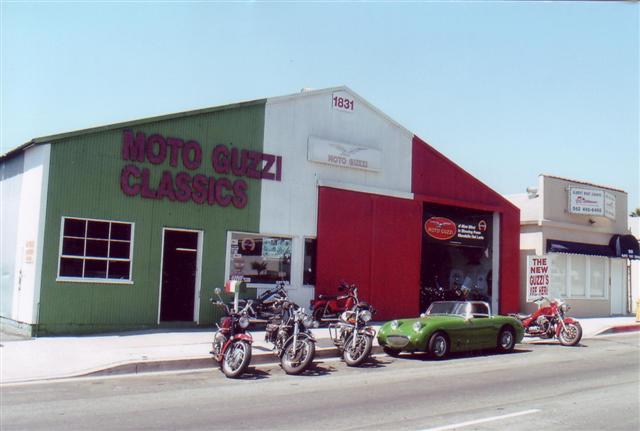 Just past Magic Mountain, I stopped for breakfast and called Mark to check the tire situation. Mark had found a set at another retailer. "Come on over I can fix you up." Music to my ears.
It was 10:00 A.M., as I headed through the heart of Los Angeles, a super slab jungle, driving right to Moto Guzzi Classics, 1831 Redondo Ave. Signal Hill, California. You can't miss it. The building is painted in Italian flag colors. Mark got me right in. He took one tire off at a time and ran it up to the retailer for the tire and mounting.
I first met Mark in 2000 at the Prescott, Arizona Guzzi rally where he brought his clever custom-built Guzzi, a 1974 LAPD with 1996 Cali 1100i running gear and suspension. It was also featured in the UK's Classic Bike Magazine. If Guzzi built a bike like that I'd surely write a check today. Are you listening MGNA? (Moto Guzzi North America) Mark was working on a customer's Ambo that was purchased from him in the early nineties. His customer now lives in Alabama I believe he said. I watched Mark balance the carbs by ear/feel. Mark is the only one I've seen who can tighten a nut or bolt on a Guzzi (or on anything for that matter) by hand and have the torque spot on to spec. Wow! This man has the touch.
I'm sorry to report Mark is no longer a new Guzzi dealer. I, as a consumer, like to get competitive prices, but let's face it, we are not buying a box of breakfast cereal out of a large box store. Dealers need to be able to make enough money to do warranty service and stay in business. I hope Piaggio (Now the new owners of Moto Guzzi.) can get a handle on this. Not only does Moto Guzzi lose but all of us Guzziests as well, when good people like Mark drop the marque.
About 2:00 P.M. I headed south down Hwy 1 where there is a lot of high-end car dealers: Rolls Royce, Bentley, Aston Martin, Lamborghini, and Lotus. Then Yachts of every size. While I was listening to that beautiful Guzzi music coming from the back of my oval carbon fiber pipes, I was thinking to myself, I bet I have more fun with my Guzzi than any of these people have with their high-end toys! After all, how many genuinely nice people can you meet while in a two to three hundred thousand dollar car or a million plus yacht.
At Capistrano Beach, I jumped back on I-5 then took 74 East to Lake Elsinore, where I was having fun breaking in my new set of tires on this sweet twisty road until I hit a back up, stop and go, stop and go, then stop. At 108 degrees in the valley it must have been at least 112 sitting on that road with all the rocks and blacktop about. It was a good test for the LeMans as it ran perfectly, no vapor lock or knocking. Not so much as a complaint of any kind. A dump truck took pity on me and let me move in front of him to get out of the direct sun. We were at a dead stop for 20 minutes. I now know what a roasted duck feels like, me being in full leathers. I wasn't a pretty sight to behold. Soon a wrecker came through hauling a wrecked car followed by a motorcyclist on a BMW GS1150 holding up a peace sign. I took this as two more miles of back up. And so it was for 45 more minutes, stop and go for the next two miles.
I-15 South to Temecula was surprisingly light for rush hour traffic. Finding my friend's house wasn't too bad considering most of the homes all look alike, as it is a sea of beige stucco with red tiled roofs as far as the eye can see.
Day three: Bruce showed up at 10:00 A.M. ready to go. Larry, however, was at his Honda dealer's having handling trouble, still not yet sure what the reason for the steering head shake was at higher speeds, but thinking it had to be one of the new tires they installed only a day ago. After discussing it, we decided to meet him and his wife in Mexico.
The three of us headed southeast taking the back road, 79, through the hills. Coming in to Julian, we came upon an overturned car in the ditch with a 65ish woman looking all shook up, but physical okay. There was no other vehicle around so we assumed the lady just lost it. Good thing we had to wait for Larry or we might have been tangled up in this accident with her. Emergency vehicles and police were on the scene so we moved on.
At Descanso we took S1 until we had to get on I-8 east dropping into the valley. The mercury climbed fast to 114 by the time we got to El Centro where it was time to top off gas and to buy Mexican insurance, because all U.S. auto insurance is null and void in Mexico. Proceeding to the border, there was more stop and go traffic for four blocks.
Mexicali is the capital of the Mexican state of Baja California and the city is the home to more then 900,000 people. I was surprised to learn an American Harry Chandler, the publisher of the LA times at that time, founded the city in 1903 as mostly an agricultural settlement.
Going over the border was a snap. We just pulled up to one of the many slots with a red light and a camera looked at us. When the light turned green, we simply drove away. Curiously, I've never seen anyone being searched while crossing over into Mexico. After regrouping from the border crossing, we headed in search of the start of Three Flags and the hotel for the night, The Araiza, keeping close together through the city of Mexicali.
The streets' surfaces as you can imagine are bad. The drivers, you guessed it, are crazy! Some cars even had bullet holes in the side of them. Not a good sign! And of course all the street names are in Spanish. It's hard for me to remember names of streets when I can't even pronounce them. Amazingly, we found The Araiza Hotel. If we would have followed the map supplied in the starters packet, I'm sure we'd still be on the other side of town scratching our heads today.
We pulled into the parking lot and as usual there was a section all roped off for the Three Flags riders with a guard looking over the lot. I quickly grabbed my tank and saddlebags then checked into the air-conditioned hotel. While taking an hour-long cool shower, I must have consumed a gallon of ice water before my body temperature was back to normal.
Afterwards, I put on a clean Guzzi T-shirt, then checked in with the Three Flags pre sign-in. I handed them my official Three Flags ticket and in return I got a starters packet with a pin, embroidered patch and hat, starting slip, route sheet with checkpoint opening and closing times, a ticket for the final banquet in Canada and my Three Flags passport, which is the most important of it all. This has a Polaroid photo of yourself that is taken at this time. You must show your passport at every checkpoint as it will be stamped and signed with the date and time by the checkpoint official.
Looking around the room, there were two tables with some snacks. Bummer! What happen? In the past, we always had a buffet. Grabbing a plate of finger food, I saw some friends: Don Strum from B.C., Canada whom I met at the Four Corners' banquet earlier in the year and some gents from Portland, Oregon whom I rode with a few times in my BMW days. Then Paul Rumpler, a super nice gent who was on the '04s Three Flags Classic Committee, came up to chat about Tine's no show. Paul is a bit of a legend for not only how fast he rides, but the number of bikes he has totaled out. The rumor is seven in a five-year period, without any serious injuries and somehow he still has motorcycle insurance.
I walked out to check on the bikes. Everything was a-okay. It's kind of fun looking at what the rest of the group is riding. Most people cover their bikes. I didn't bother with a cover on the trip, as I wanted everyone to see the beautiful lines of the LeMans. After all, in a sea of bikes a Guzzi truly stands out.
Setting everything out I would need and packing the rest up for the next day, I got to bed at 11:00 P.M. just laying there in bed concentrating about the time to wake up for a few minutes before going to sleep. I can usually come within five minutes of the goal, but just in case I put in a wake up call.
Day four: Starting time was moved up from 6:00 A.M. to 4:00 A.M. because of the heat. 2:00 A.M. I woke up. At 2:30 I called Vance and Bruce's room. They were already up. By the time I was at my bike and getting set up, here came the crew, luggage in hand. It was 85 degrees and super muggy. When my friends took off their bike covers low and behold their seats had to be wiped off. We tried to affix our rally number stickers on the headlight and the taillight with no luck; again it was just too muggy.
3:10 I drove the LeMans up to the hotel main entrance for the start. The Guzzi stood shining in the hotel lights. With lots of people asking me, "Moto Guzzi? Are they like a Harley? Do they still make them?"
"Oh yes," I replied, "they are still made in Italy and it's an '03 model. Guzzi you know is the only one who knows how to put a V-twin in a frame."
4:00 sharp Tammie, Larry's wife and riding partner, handed in all of our start slips. No one in our group wanted to wait for the police escort out of town. So we were off along with about two hundred other participants making our way to the U.S. customs' border crossing. It was stop and go as it felt like forever. With everyone's adrenalin working on high you could almost taste it in the air. I saw ten Mexicans walking up and down the lines selling all kinds of stuff. Three of them were missing one or more legs. Your heart really goes out to them working at this hour and being disabled at that.
When I got to the booth I handed the customs officer my driver's license. He asked me, "What is your citizenship?"
I replied, "USA born, bred, and proud of it!!"
With a smile on his face he said, "Do you have anything to declare."
"NO," I replied.
"Welcome home," he said.
After all four of our bikes got through customs we were off. North on Hwy 111 to Brawley. You really have to watch it here when the wind comes up. I've seen 10" sand drifts across the road. We headed east on 78 through the Imperil Sand Dunes. This is where George Lucas filmed the barge scene in the Return of the Jedi of the Star Wars Trilogy. This road is like a rollercoaster up and down for miles. No need for law enforcement here as you can only do the speed limit or you'll be airborne. It was unusually dark that early morning and felt somewhat strange riding through there at night, because when you are at top of the hump your lights hit the top of the next hump so the bottom 15 feet of the road is pitch black. With Vance in the lead all I could see of him was his taillights and the reflective strip across his back and arms, looking very much like I was following the headless horseman up and down, up and down for miles.
Coming into Blythe it was just beginning to get light and we stopped for fuel. Then we jumped onto I-10 East to Arizona. Off the freeway at Hwy 60 East heading towards Wickenburg, then on Hwy 71 North to Congress. At US 89 north, just before Yarnell, we passed the old ghost town of Stanton, but there was no time to stop as we were almost to the fun twisty section right before Prescott. At Prescott we stopped for fuel and breakfast. Good thing. The bike and I were both running on reserve. We pulled into a restaurant with four GoldWings out front. We figured we couldn't go wrong here; everyone knows GoldWingers always know where the best places to eat are. After all GWRRA stands for "Gold Wing Restaurant Review Association" right!
After breakfast we headed out on U.S. 89 north which is rather straight and boring. I was surprised we didn't take ALT 89 to Cottonwood and Sedona as it's one of the prettiest roads in Arizona. The club does pre-ride this run just before the event so it may have been under construction. Taking I-40 east to Flagstaff, Bruce was weaving back and forth in the lane so I motioned for gas even though I had plenty. I figured it was time for a safety break. Good thing, Bruce told me at the stop he was falling asleep.
After a fifteen-minute break and top off of fuel we headed north on Hwy 89. Traffic was heavy and the wind picked up to about 25mph with gusts. Soon as we got to the Hwy 160 turn-off, the scenery started getting interesting. Echo Cliffs on the right side looked like majestic white castle walls. We took ALT 89 with magnificent rock formations all around us. The road was entertaining with lots of fun high-speed sweepers. We then crossed Glen Canyon Bridge, a deep gorge with sheer rock walls.
By this time the wind was blowing 35 to 45mph with gusts. Amazingly, it hardly affected the LeMans. I thought my Honda Valkyrie was king in the crosswinds, but the LeMans has now proven to be best. Stopping at the next gas stop just a few miles past the bridge, my friends were complaining how they were all over the road, afraid of being blown into on-coming traffic or being blown off the road. And all that time I was thoroughly enjoying myself. Tucking myself behind the little stock windshield I felt like a GP racer. Just once in a while the Guzzi would pitch very slightly to one side then the other.
The handling of this LeMans is the best bike I've ever ridden. The most surprising thing of all, was the wind didn't seem to affect my gas mileage. I have always lost mileage in very windy conditions on any other bike. The LeMans is comfortable also. It's almost like Guzzi had me sit in my favorite riding position then poured the bike around me. Only after 250 miles or so would I need to swing out my legs to a stretch for a moment. The stock seat is the best; it's so soft, but not too soft, just right!
Heading onto Fredonia, we got into some nice twisty roads, pine trees, and no more wind, a nice change. Then soon a back up, of a whole line of thirty HDs hogging the road. Where is a tavern when you need it, I ask? Finally after five miles we all got around. At Kanab we got back on Hwy 89. On the left side there was pink sand dunes and on the right side cliff dwellings.
We pulled into Panguitch, Utah at 4:30 P.M. for the night's stay. After checking into the motel, we cleaned up the bikes with the complimentary rags given at the desk. Finally we headed in search for food and entertainment. Walking three blocks up in the middle of the street was three firemen hollering, "Fill the boot, fill the boot, fill the boot." Rather odd way for donation I'd say but not surprising for a nice clean sleepy little town with a population of only 1,600.
After putting a buck in the boot I asked them, "Where is a good place in town to eat with entertainment, preferably."
"The Cowboy's Smokehouse just down one block and to the left," the firemen replied. Sure enough it had great food and good live country music.
Day five: Everyone was out at their bikes and ready to go by 5:45 A.M. for the day's start. Two cars over there were four HDs packing up. I got on the LeMans and pushed it over, while still sitting on it, five feet in back of them I started her up. What can I say? They really needed to hear what a real V-twin sounded like. They greeted me with, "Cool bike, sounds sweet. Moto what? Is it made in Germany?"
At 6:00 A.M. we headed out, it was 34 degrees. What a change from the previous morning. We headed south on Hwy 89 to pick up Hwy 12 towards Bryce Canyon. This is one of the many beautiful rides in Utah. Riding through Red Canyon you'll find a shallow valley surrounded by vibrant reddish-orange sandstone pinnacles, columns, spires and hoodoos, with a little splash of evergreens here and there clinging wherever plant life can get a hold of some earth. After about 80 miles, we went up a hill then through an opening at the top. All of a sudden we were on this knife-edge ridge with a steep drop of hundreds of feet on both sides and not a guardrail in sight! Major pucker factor for me, as I have a fear of heights. You literally feel like you're flying for about a mile riding a top of this high ridge. This spot in the road is known as the Devil's Backbone.
At Torrey, we stopped for fuel and the first checkpoint at the Day's Inn. Here we showed our passports to the checkpoint official so he could write the time of day, stamp and sign it. We also got a run plaque. No problem for space for it as I'd been making room by throwing away my old clothes after the end of each day. All but my two Guzzi T-shirts, they are keepers. They also supplied us with all kinds of fruits, juices, and snacks. The food varies from checkpoint to checkpoint. Sometimes they have cold sandwiches, sometimes cheeseburgers. I know many people who just eat food at the checkpoints for their subsistence during the run.
After 1/2-hour at the checkpoint we headed east on hwy 24 to Loa, then 72 North, a postcard perfect road with evergreens, white rock hills, and lush green meadows with streams running through them. The posted speed was 45 but we took it for the most part at 75 to 80. Very fun, good road surface with virtually no traffic. Utah is one of the most beautiful states in the Union. Not only because of the colorful rock formations and canyons, but it boasts over 400,000 acres of lakes and over 11,000 miles of waterways.
When we got to Fremont we jumped on Hwy 10 to Price. This stretch of road is called Castle Valley, named for the white castle-like formations. About two miles after Helper we took a quick turn at the power plant and got on Hwy 191 to Duchesne. This takes you through a scenic mountain pass and the Uintah/Ouray Indian Reservation. At Duchesne we stopped for lunch. Here is where we joined up with three nice GoldWingers; one riding solo Gregg Thompson, a machinist who has five newer HDs but wants to be able to get home so he said that's why he was on a new GL 1800 Honda; and the other two, Ralph Fox, a contractor, and his wife Patti, who were also members of the Pasadena Motorcycle Club.
After lunch I quickly put on all my rain gear. The crew gave me a bad time about it but they soon followed my lead. Heading west on Hwy 40 to Park City about seven miles out it began to pour. Sometimes you can just smell it in the air, Ay!
We circumvented the large cities by taking Hwy I-80, 167 to Huntsville, then hwy 39 west to Ogden, and finally north on hwy 89 to Brigham City. Here is where we got on I-15 to Pocatello, Idaho. We saw two UHPs already busy with customers. It's a good thing too because we were all going 90 to 100 mph on this stretch, according to my speedometer. I found out going down I-5 just before Redding, California that the LeMans is running right on 10% over indicated speed at an average according to three of the radar curve signs. I wasn't too worried anyway riding in the middle of the pack and everyone, but myself, running with a radar detector and CB.
Pulling into Pocatello, Idaho, we all topped off with fuel then onto checkpoint #2 at the Holiday Inn, the hotel for the night. Sure enough, again all the munchies you could imagine with hors-d'oeuvres in the bar yum!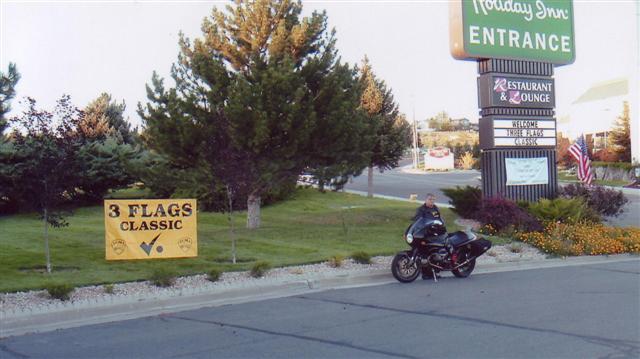 Checking in at the desk the group was all joking about how I loved my Guzzi so much that I'd even sleep with it. They were keeping it up steady while we walked to our rooms. Even giving odds. Not one to walk away from a bet, you guessed it, I clipped off the saddlebags, and rolled the LeMans right in the room for the night. Not concerned at all as it doesn't leak a drop of oil.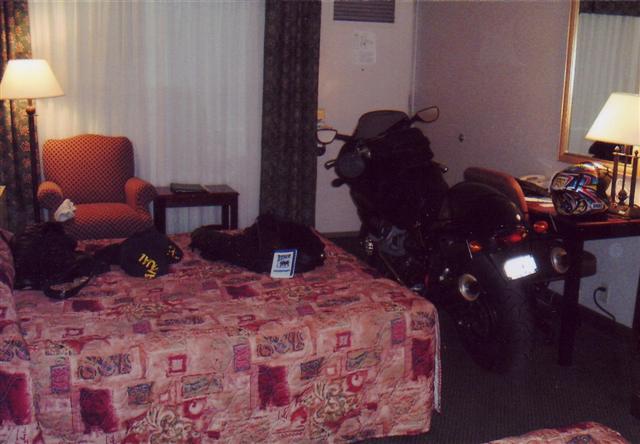 Day six: 4:45 A.M.: I rolled out the Guzzi, trying not to be obvious. The riders two doors down came out and had a good laugh. One owned a yellow GL 1800 GoldWing with every light, shiny piece of chrome, and electronic gadget you could imagine on it. Enviously he said, "I would have rolled my bike in the room if I could figure out how to get it through the door."
After talking to him I found out he owned the Toyota dealership in St. George, Utah. Soon more riders appeared, many eyeing the LeMans. I had her all cleaned up and looking good. You see, riding a Guzzi, I like to keep them clean and looking good, so people might think of that beautiful rare bike the next time they're in the market to buy. Sorry Ken! My friend Ken Hand living in Lindale, Texas is a legend in the Guzzi community logging over one million miles on Moto Guzzis alone. But he only washes his bike maybe once a year.
At 6:00 A.M. everyone was ready to roll. We headed north on I-15 to Hwy 26 towards Arco. It was freezing! High desert is like that early mornings. One hour before sunrise and one hour after is always the coldest time. Running past Atomic City out in the middle of nowhere, we pass high security fences and a guarded gate. Here is where some of the research was done for the atomic bomb.
Just before Arco, the landscape changes to mostly grass farming. North on Hwy 93 soon you will find mountains on both sides with Borah Peak, the highest point in Idaho at 12,662 ft., on the right. A few miles after cresting Willow Summit at 7,161 ft. we rode through what looked like solid rock mountain. This was just about the only curves we had found for the last 125 miles. At Challis we stopped for gas and breakfast.
Heading north still on Hwy 93 we followed the east fork of the Salmon River. No more straight and flat here. This is one of many awesome roads in Idaho. You know, just the kind Guzzis are made for. An 8.5 on the grin factor! Right at the border we went over Lost Trail Pass, 6,995 ft., and Chief Joseph pass, 7,241 ft. It was a kick in the pants thanks to that new set of Bridgestone Battlax BT014 tires. They really felt good. I rode to the edge of these tires. The roar of the pipes. The rumble of the engine. The handling of the LeMans. It's like it anticipates your very next move. Only waiting for me to initiate the command. I think Timothy has a new love! Can you tell?
Coming into Hamiton, Montana we stopped for fuel and a snack break. On to Missoula we jumped on I-90 west to pick up 93 North again. At Ravalli we headed west on Hwy 200. At Thompson Falls we filled up for the last leg for the day. I've ridden this stretch a number of times, pretty scenery with rivers, lots of greenery and Lake Pend Oreille, where the U.S. Navy has a base for testing submerging components. It's ideal for this due to the 1,300 plus feet in depth of fresh water.
After completion of checkpoint #3 in Sandpoint, we topped off with gas and headed to Richard's place, a friend of Vance and Bruce's, for the night's stay. He is a retired schoolteacher from LA and fellow rider. Riding just a few miles, we reached a nice A-frame home tucked in among tall fir trees. We rolled in his garage as the door was left opened for us. I met Richard briefly in 1999 coming back from Medicine Hat, Canada after my first Three Flags ride. After settling in, Richard fixed us all a stiff margarita and we had a toast to good friends. I had originally intended to ride down to Ron and Pam Spencer's place, Idaho MGNOC (Moto Guzzi National Owners Club) state Reps, only 27 miles away in Bayview, to check on Ron and say hi. Ron got bucked off Pam's LeMans a few months earlier. But being not much of a drinker (pretty much just a social drinker) I wasn't in any kind of condition to ride after the drink. Sorry Ron and Pam!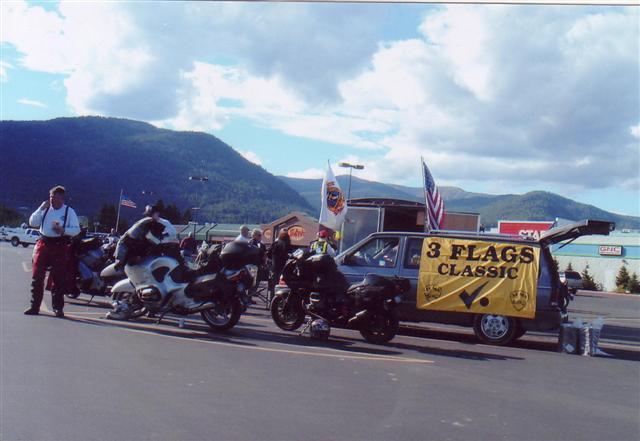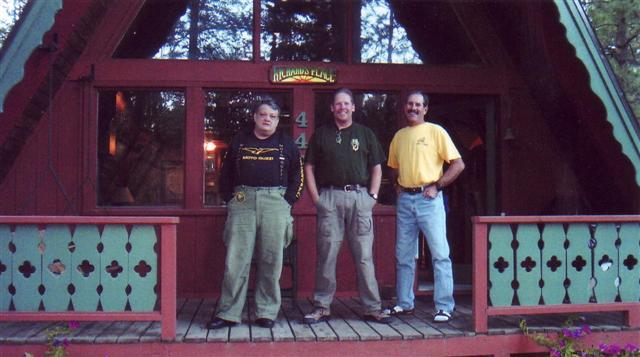 Day seven: At 5:45 A.M. we met the rest of the group at the Sandpoint checkpoint. After some munchies we headed out on U.S.-2 west. About five miles out of town we hit thick fog, a two liner! (only two white lines visible in front of us). Being deer and moose country it was lucky for us that right off the bat we found an ACV, animal-clearing vehicle. This one was a large concrete pump truck. We tucked in close behind. By the time we got to Newport, Washington it was all cleared up. Proceeding to Deer Park, we got on Hwy 395 north to Kettle Falls. At Laurier, we stopped for breakfast at a mom and pop place before crossing the Canadian border.
At the border, it was a bit busy with twenty or more bikes all lined up waiting to cross. I just shut down the bike and pushed up and over the border, then pushed off to the side and waited for the rest to get through customs. After regrouping we headed west on CAN-3, Crows Nest Hwy, then a right on Hwy 33 towards Kelowna, our final destination. This is a nice twisty road with beautiful scenery about. Running just east of Okanagan Valley, it is British Columbia's major farming area with various fruit/vegetable stands and many vineyards.
We drove around Kelowna, with a population of 89,400, looking for the Grand Okanagan Hotel. Finally at 3:00 we found it. Wow! What a nice place. Checking into the fourth and final checkpoint, they handed us a finisher's T-shirt and run belt buckle. I asked Paul Rumpler, standing behind the table, if I could get a T-shirt and hat if they had any extras for our mutual friend Tine Matherly who couldn't make this run but paid for it. "No problem, we can do. See me later," Paul said.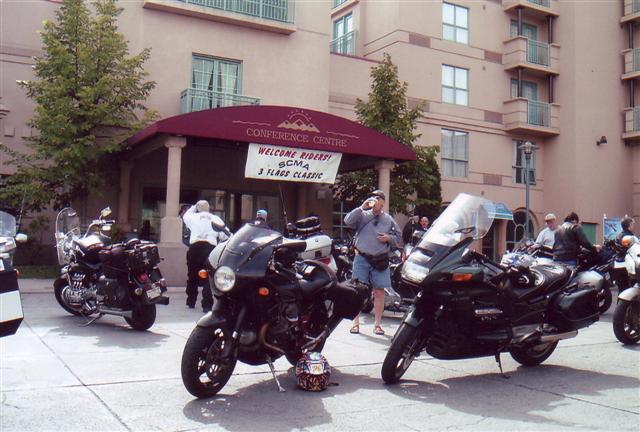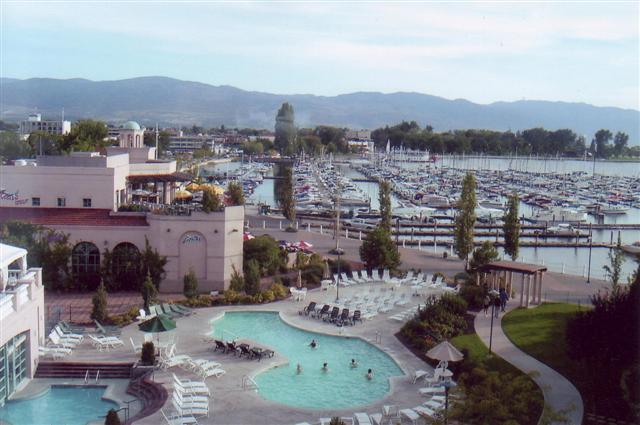 The rest of the day we relaxed lounging around the pool and hot tub until 6:30 when we hung out in the front watching for the last minute finishers to roll in. Sometimes you'll see the darndest things that people ride in on at the last minute. Checkpoint closing time was 7:00 P.M. no exceptions.
Day eight: I slept in that morning then head down to breakfast, compliments of Three Flags. I shared a table with two gents who were heading out to do the Iron Butt Rally after the evening's finale, the banquet. Interestingly, at Three Flags you meet all kinds of riders, from first timers to seasoned Iron Butt riders. Not to mention all different kinds of bikes with all the multitude of combinations of the way they're set up.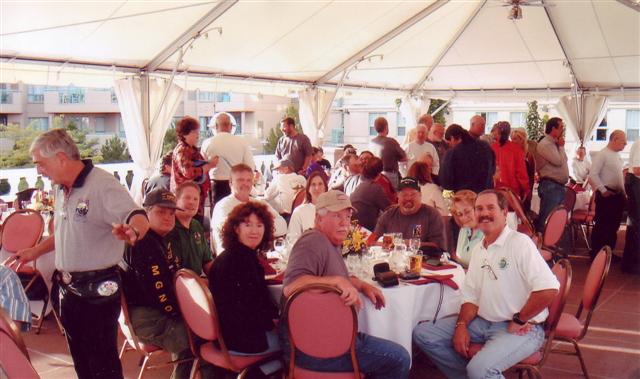 Vance, Bruce, and I took a walk around town. We found a small military museum mostly of WWI and WWII exhibits. Then walked to the hockey arena home of the Kelowna Rockets and sat in the seats for a spell. You can tell Canadians really take their hockey seriously here, having several ice arenas around town. By the time we got back to the hotel there were a hundred or so picketers out front picketing the prime minister who was staying in our hotel. So it was, the banquet got moved out on the terrace. And what a banquet it was. I have never seen so much good food: shrimp, scallops, mussels, and prime rib. You name it; it was there. Paul did a great job as MC for this event. They always give an accounting of how many bikes completed the run and the number of each marque. I was the only Guzzi there out of over three hundred bikes. Too bad, they don't know what they're missing.
Day nine: Vance and Bruce really wanted to ride to Vancouver Island, via Kamloops, Cache Creek, Whistler and Vancouver, B.C. then the ferry to the island. Unfortunately, the weather didn't cooperate, knowing of a wooden bridge they would have to cross going that way, it would assuredly be treacherous when wet, so they decided to follow me.
We headed out south on 97 to the Osoyoos border crossing. Crossing the border was a snap showing only our driver's licenses.
Continuing south on 97 to Omak, we fueled up and headed east on 155 for some fun mountain twists with tall pine trees for fifty-two miles running through the Colville Indian Reservation. At Grand Coulee Dam we stopped for breakfast at a restaurant just below the spillway. Grand Coulee Dam is one of the world's largest concrete structures. This is a favorite summer destinations of mine having a free (my kind of price) lazer light show on the spillway on the four powerhouses every summer night at 10:00.
Heading south on 155, Grand Coulee Canyon is fifty miles in length. Banks Lake, on the west side for twenty-six of those miles, is created by one of the mighty power houses of Coulee Dam that doubles as a pumping station. It pumps up water at the low peak times then generates power in return at high times. This is a beautiful stretch of road with spectacular towering basalt walls and greenery all along the reservoir.
We stopped at Dry Falls for a good look. Formed 10 to 15 million years ago but now no longer carrying water, it is remnants of what was once the largest waterfall known to Earth. It's 3.5 miles across with sheer cliffs that drop four hundred feet. Can you imagine the deafening roar of the water pouring over it? Niagara Falls is only one mile wide and only drops one hundred sixty-five feet. Continuing southward in this canyon, we passed Sun Lakes, a series of alkaline lakes for another twenty miles.
At Ephrata, we took 283 to I-90 West for eleven miles just after crossing the Columbia River. At the Vantage exit, we fueled up, then I took them on the back road that parallels just north of the freeway to Ellensburg. Running through town, we got on 821, a nice desert canyon road running along side of the Yakima River for twenty-seven miles, fifteen of which boast sheer cliffs of basalt frame rising up to two thousand feet from the river that carved it. Unfortunately, this stretch is highly patrolled nowadays, so watch your speed!
Getting on I-82 South to Yakima, we took Hwy12 West, then west of Naches we began to see trees again. Up and over White Pass to Randle where we fueled up. Heading south around Mt. St. Helens is sixty miles of one of the finest motorcycle roads in our state. A multitude of fifteen, twenty, twenty-five and thirty mph turns all mixed up that go on forever. Lush green ferns are everywhere. Evergreen and broadleaf canopy covered the road, with spotting sunrays peeking through. Springs and streams that feed the reservoirs. The smell of cool fresh air. I'm home again and in God's country!
At the Yale turnoff we stopped for our final good-byes. Vance and Bruce headed up north to see Tine. I rode another thirty or so miles of twisty roads back home. I couldn't ask for better riding partners. Great ride and great friends with nine days on the finest motorcycle made, a Moto Guzzi! I'm truly blessed in my life.
Hail to the Guzzi gods, long live the Soaring Eagle!
Ciao,
Timothy Barlow